Corruption-Eradication-Legislation Govt. to introduce new piece of legislation to curb corruption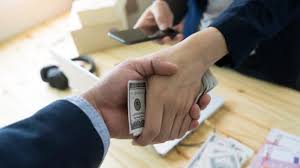 ISLAMABAD, :Minister for Law and Justice Dr. Farogh Naseem here on |Friday announced to introduce a new piece of legislation to curb corruption which will be tabled in the Parliament soon.
Addressing a press conference, the minister said that the government is planning to introduce a new law to curb corruption.
The law 'The Whistleblower Protection' Bill will be presented in the Parliament and at provincial legislatures as its draft is ready while it will also ensure protection for those pointing out corruption.
It is to mention that similar type of legislation has been made in Khyber Pakhtunkhwa Assembly during the last tenure of PTI in the province. The Khyber Pakhtunkhwa Assembly on Sept 19, 2016 enacted the Khyber Pakhtunkhwa Whistleblower Protection and Vigilance Commission Act, 2016. "The law will invite countrymen to identify the corrupt and whistleblowers will get 20 percent of the ill-gotten money and assets recovered from such people," the minister added.
He said that an impartial commission will be set up to look into the complaints of corruption and the names of whistleblowers will be kept secret. The minister also invited political parties to give their input, saying they should be on the same page in order to clamp down on corruption.
The minister said that commission will screen the complaints which may be also forwarded to the NAB, FIA, and SECP after the screening. He said that NAB has lot of cases to investigate and its time may be saved if there is any other body to help it in rooting out the corruption. He said that Chairman of the Commission will be selected through a proper procedure which may have the central authority.