Helge Ingstad: Warship collides with tanker in fjord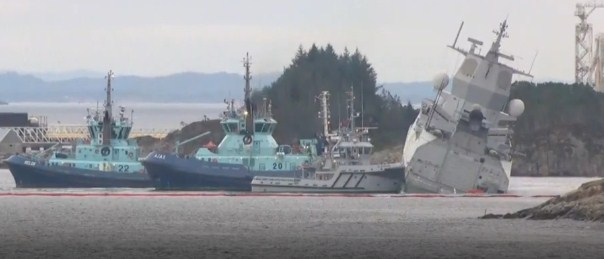 The KNM Helge Ingstad takes in water amid fears that it might sink
Norway has evacuated the entire crew of one of its warships after it collided in a fjord with an oil tanker.
Seven people were lightly injured in the collision in the Hjeltefjord near Bergen in the early hours of Thursday, rescuers say. The frigate has been listing dangerously.
The KNM Helge Ingstad had been returning from Nato military exercises.
The tanker, the Sola TS, was only slightly damaged and it appears that it did not spill oil.
It was not immediately clear what had caused the collision, which reportedly occurred shortly after 04:00 (03:00 GMT), and led to 137 people being taken off the warship.
An unnamed official told AFP news agency that a "small oil slick" had been detected from the frigate.
"It took on a lot of water and there is a real danger that it sinks where it is," the official said.
The tanker, which has a crew of 23, was returning to port for inspection.