Trump fires Attorney General Jeff Sessions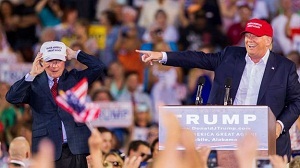 US Attorney General Jeff Sessions has been fired by President Donald Trump.
Mr Trump had criticised his top law official for months, mainly over his refusal to oversee the investigation into alleged Russian meddling in favour of Mr Trump's election in 2016.
Mr Sessions's chief of staff, Matthew Whitaker, who has criticised the inquiry, will take over temporarily.
Special Counsel Robert Mueller is investigating alleged collusion between the Trump campaign and Russia.
Mr Mueller's wide-ranging investigation has resulted in a series of criminal charges against several Trump associates.
In a resignation letter, Mr Sessions – a former Alabama senator who was an early supporter of Mr Trump – made clear the decision to go was not his own.
"Dear Mr President, at your request I am submitting my resignation," he wrote in an undated letter.
The Trump-Russia saga in 200 words
"Most importantly, in my time as attorney general, we have restored and upheld the rule of law," Mr Sessions added, while thanking the Republican president.
"We thank Attorney General Jeff Sessions for his service, and wish him well!" Mr Trump tweeted on Wednesday.