Next PM will send Imran Khan to jail: Zardari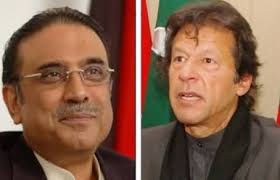 Tando Allahyar: Former President Asif Ali Zardari Tuesday said the next prime Minister will send premier Imran Khan to jail.
 He said Pakistan Tehrik-e-Insaf's inexperienced government will not be able to work.
 Zardari, the Pakistan People's Party co-Chairman, said the inexperienced Prime Minister was unable to handle the country. "Puppets brought in by elections will not be able to govern. Conditions are serious and the government cannot handle it," he added.
 Speaking to journalists, he said the worst democratic government is better than the best dictatorship.  "This is why we are in Parliament, so other powers do not use our absence to manipulate the system. PTI is trying hard to break the system," he added.
 With reference to the ongoing case of fake bank accounts, Mr Zardari said as long as "we are alive they will try to put us in jail."
 Mr Zardari said the PPP restored the constitution in its original form but the PTI-led government's policy was just focusing to demolish 100-years old walls of Punjab Governor's House.
He remarked that the present government was non-serious and it has no consolidated political approach. Mr Zardari also mentioned that he was imprisoned previously in Benazir Bhutto murder case