Imran Khan's minister faces disqualification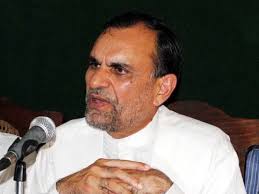 Islamabad: The Supreme Court has rejected Federal Science and Technology Minister Azam Swati's apology in the Islamabad IG transfer case and said he can be tried under Article 62 (1)(f).
Article 62 (1)(f) of the Constitution is a provision requiring elected officials to be 'sadiq and ameen' or honest and righteous. Former prime minister Nawaz Sharif and PTI leader Jahangir Tareen were disqualified under this clause.
During the hearing on Wednesday, Chief Justice Saqib Nisar said that Swati is a publicly elected official. He asked whether this was the way he behaved with the people of the country. He went on to question whether a public official had women arrested over a few cows.
The three-judge bench hearing the suo motu proceedings against Swati had asked him on Tuesday to submit a written reply in the case after seeking clarification under Article 62 (1)(f) earlier.
Why shouldn't we make an example of Swati, asked Justice Nisar. He asked what action the PTI had taken against Swati. The prime minister transferred the IG with a single phone call, why shouldn't we summon him for an explanation, asked the top judge.
He said he didn't even want Swati's money for the Supreme Court's Diamer-Bhasha and Mohmand Dam Fund.
Swati is accused of being involved in the transfer of Islamabad IG Jan Mohammad after Swati's son registered a case against a family for trespassing on his land.