PPP won't allow presidential system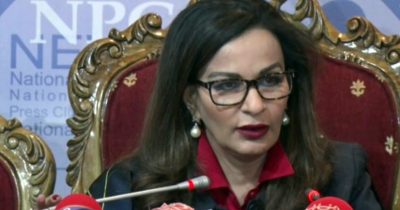 Islamabad: Pakistan People's Party (PPP) Thursday said it will not allow the Pakistan Tehrik-e-Insaf (PTI) to introduce a presidential system.
 The PPP leaderfs alleged that the ruling PTI wanted to introduce the Presidential System in the country, and also grumbled that the incumbent government has left the parliament paralyzed.
 Speaking at a news conference along with Farhatullah Babar, PPP Vice President Senator Sherry Rehman said that making the Parliament non-operational, the PTI wanted to send a message to the public that the Parliament has failed to perform for paving way to introduce the Presidential form of government
 Senator Sherry Rehman said that due to the government's obstinacy, no Parliamentary Committee has been formed yet. She said that even after 100 days, the government failed to form the Public Accounts Committee (PAC).
 "We are in strong opposition in the Senate. The government is ignoring the elected institutions. We will not let the government do this," she said.
 Sherry Rehman also lamented that Prime Minister Imran Khan even was not cognizant of the recent devaluation of rupee against US dollar.
 She said introducing the Presidential form of government by abolishing the 1973 Constitution is a long time desire of anti-democratic forces in Pakistan and the Presidential form of government was introduced after every martial law in Pakistan