Sindh CM to table important projects in JCC meeting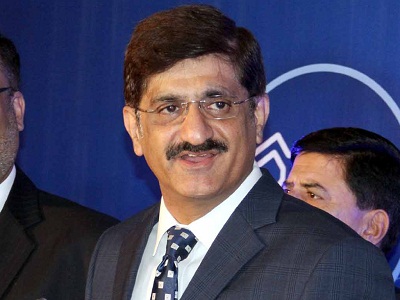 Karachi: Sindh Chief Minister Syed Murad Ali Shah on Friday said that he will take some important projects of Karachi Circular Railway, Keti Bandar, Dhabeji Economic Zone, River lining, mega desalination plant for Karachi to China Pakistan Economic Corridor related Joint Coordination Committee meeting to be held in Beijing by end of December 2018.
 Presiding over a preparatory meeting for JJC meeting to be held in Beijing, Murad Ali Shah said that the three projects approved in the 6th JCC meeting held on 29 December 2016 and would be take up again. Most of their required formalities have been completed.
 "Karachi Circular Railways (KCR) is most important project which I want to give my citizen as a gift," he said and added this $1.97 billion 43.24 km KCR project would not only resolve traffic issues of the city but it would lift the overall image of the city in terms of urban transport facilities.
 The meeting was attended by Minister for Agriculture Ismail Rahu, Energy Minister Imtiaz Shaikh, Minister Transport Awais Shah, Chairman P&D Mohammad Waseem, Principal Secretary to CM Sohail Rajput and concerned Secretaries and Azeem Uqaili of Sindh Board of Investment.
The KCR would start from Wazir Mansion and covering the areas of Tower, Karachi City, DOCs, Karachi cant, Naval , Chanesar, Shaheed-e-Millat, Drigh Road, Drigh Colony, Star Gate, Jinnah Terminal, Johar, Alladin park, Nipa, Gilani, Yaseenabad, Liaquatabad, Nazimabad, Orangabad, KBL, manghopir, SITE, Shah Latif Baldia, Lyari and terminate back at Wazir Mansion. 
Speaking about Dhabeji Special Economic Zone project, the Sindh Chief Minister said that it was being established 1,530 acres. The zone is located at the most important location connected with National Highway and near to Motorway. This project would cost around Rs 43 billion.
Mr Shah said that he had also worked out some other projects which include agriculture project, environment project, mega desalination project for Karachi and "we may request for river lining from Guddu to Sukkur.
The chief minister said that China had made tremendous progress in agriculture sector. "We want to take benefit from their research and practical work," he said and added the agriculture project would include changing of cropping pattern, introduction of low delta and, high yield crops and mechanization of entire agriculture system.