Govt striving to improve quality of education: President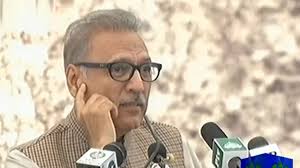 Islamabad: President Dr Arif Alvi said Wednesday that the government was making all out efforts for improving the quality of education in the country.
Addressing the annual Parents' Day in Cadet College Hassan Abdal, he said promotion of education is a shared social responsibility and we should focus on personality development along with education.
The President urged the students to utilize their abilities and play role in development of the country.
He urged the students to follow the Quaid-e-Azam's golden principal of unity-faith-discipline to achieve their goals.
Highlighting the importance of communication skills, Dr. Arif Alvi advised the students to work hard to improve their presentation abilities as it will help them to accomplish their tasks in adequate manner. He said dream of Naya (new) Pakistan cannot come true youth.
The President said Pakistan was on right track and soon its people will witness a time of success and prosperity.
Talking about women rights situation in Pakistan, he regretted that due rights of women are not being given to them.
He congratulated the teachers and students for obtaining astonishing grades and distinctions in their examination.
Earlier, smartly turned out contingent of college cadets presented the general salute to the chief guest followed by parade.
Cadets also demonstrated PT show, gymnastic show and tent pegging.
The President distributed prizes among the cadets with distinctions.
Ahmad Noor from South Waziristan won the sword of the year whereas Liaquat wing of the college won overall best performance award.