Imran Khan vows to improve life standard in South Punjab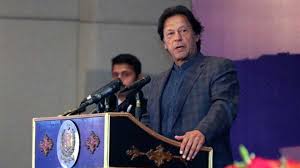 Islamabad: Prime Minister Imran Khan Wednesday said that the incumbent government was determined to mitigate problem of "South Punjab" and rights of the farmers to be protected.
Speaking to lawmakers from Bahawalpur, the Prime Minister said the "South Punjab" remained deprived of in the past amid negligence of the government.
He said that basic amenities are be ensured and student are be adorned with expertise in order to provide them employment.
The Prime Minister also informed the representatives with regard to efforts of federal and Punjab government to provide of clean water in the province. He said that the government is also determined to empower citizens at every level.
The Prime Minister said foreign investors and renowned brands are prepared to invest in Pakistan with prudent steps of the government.
The lawmakers welcomed the government steps to constitute four hundred and twenty "committees" and said that the "committees" are to help resolve local issues faced the inhabitants.
The Prime Minister hoped that the days of prosperity and economic stability are in the lines.
Earlier, the members informed the Prime Minister of problem faced by voters in respective constituencies.