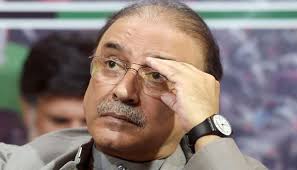 Islamabad: Pakistan Tehrik-e-Insaf (PTI) on Thursday filed a disqualification reference in the Election Commission of Pakistan against former president Asif Ali Zardari.
The reference points out Zardari's concealment of an apartment in the US as its basis. The reference text mentions that Zardari had not mentioned his apartment in the bank statements. PTI lawmaker Khurram Sher Zaman filed the disqualification reference.
Federal Minister for Information Fawad Chaudhary had made an announcement a day earlier regarding filing a disqualification reference against Zardari.
Citing Article 62 and 63 of the Constitution the reference underscores that each candidate is required to submit complete asset details in the nomination papers and since Zardari failed to adhere to the requirement, he is not qualified to be a member of the Parliament.
Meanwhile, the Pakistan People's Party (PPP) has finalised its strategy ahead of Asif Ali Zardari's appearance in the banking court on Friday (today) in a case related to alleged money-laundering.
According to sources, the PPP has directed all the party lawmakers and Senators to reach Karachi.
Earlier on Wednesday night, the PPP decided to give tough time to the government in case of the arrest of the former president. Sources said that the party's senior leaders also proposed to move no-confidence motion against the government.
As the Joint Investigation Team (JIT) constituted by Supreme Court is swiftly heading towards conclusion of the probe into fake accounts case involving suspicious transactions worth multi-billions, the situation looks quite depressing for Mr Zardari and her sister Faryal Talpur.
The PPP co-chairman himself has hinted at his imminent arrest in the case. The JIT in the recent development has traced money laundering through Hundi, and properties purchased in London, Canada, France and Dubai from the same illegal money.
The prime accused in the mega corruption case Omni Group head Anwar Majeed transferred graft money abroad through Hundi to buy assets in London, France and Dubai. The JIT report also exposed the expenditures of Bilawal House incurred by Omni Group to seek 'blessings' of Zardari.
The latest headway in JIT report was being seen to spell a disastrous and depressing year 2019 for Zardari and Faryal Talpur.