Court extends Zardari, Faryal bail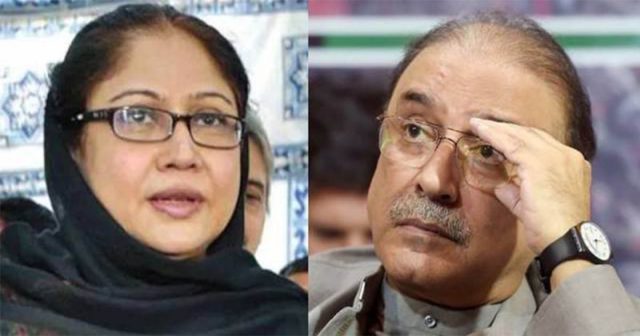 Karachi: The interim bail of former President Asif Ali Zardari and his sister Faryal Talpur in a ongoing money laundering case was extended till January 7 by a banking court.
Zardari accompanied by sister Faryal Talpur appeared before the court in Karachi after conclusion of previous extension in interim bail.
The PPP workers and senior party leaders, including Rehman Malik and Khurshid Shah had converged on court premises in solidarity with their duo leaders upon prospective arrest which has been the talk of the town for past couple of days. But, the reality went otherwise, and both PPP leaders were granted extension in bail dispelling the most speculated arrests.
Earlier, on Thursday during a high-level party meeting, the PPP had decided to stage a protest in case Zardari was arrested on cancellation of bail.
Pakistan Tehrik-e-Insaf (PTI), through its lawmaker Khurram Sherzaman, had filed a disqualification petition with the Election Commission of Pakistan (ECP) against Zardari for concealing his New York flat in nomination papers for the 2018 general elections.
In the plea PTI has adopted the stance that the former president did not declare his NY apartment in asset details submitted to ECP.
Concealing the assets comes under Article 62 (1) (f) of the constitution, the plea reads. The petitioner PTI has prayed to the commission to disqualify Zardari as he has not remained 'Sadiq' and 'Ameen' (honest and trustworthy).
Meanwhile on Friday, the PPP decided to move to the court against PTI for 'fake claim' of alleged ownership of Asif Ali Zardari regarding flats in New York.
Speaking to reporters, PPP leader Latif Khosa said that it was agenda of the government to arrest all leaders of opposition and send them to jail.
PPP leader said that Mr Zardari's property in America was sold 20 years ago and now Asif Zardari owns no property in US.
He slammed the PTI government saying that the government has deprived the citizens of their employment instead of providing them a respectable source of earning.
He asserted that the government had promised to provide 5 million houses to the homeless people but they are demolishing instead of building houses for needy.