Another unannounced war against Pakistan initiated: Bajwa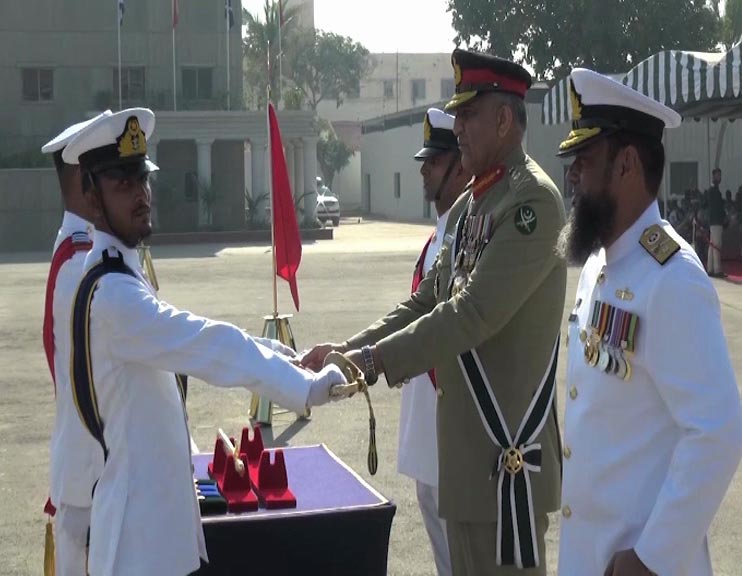 Karachi: Pakistan army chief Qamar Javed Bajwa Saturday said that another unannounced war against the country has been initiated.
He alerted the nation about the risk of regression following terrorism. "We are here and will remain to be In Sha Allah (God willing)," he said while addressing the Passing out Parade of 110th Midshipmen and 19th Short Service Course held at Naval Academy, Karachi.
The army chief asserted that new threats were being exposed in the face of own people. "We have seen many disputes on the eastern and western border. Wars bring death, destruction and difficulties for the nation. All the matters can be resolved through negotiations," he said.
Bajwa reiterated that efforts are being made to bring peace in Afghanistan. "We have also extended hand of peace and friendship towards India with utmost sincerity but it should not be taken as our weakness. Peace is in the benefit of everyone. Time has come to fight against hunger, disease and ignorance then to fight against each other," he declared.
Modern technology has changed the nature of wars and those who have adopted that expertise have improved their war abilities, added General Bajwa.
"Pakistan has survived the earth shattering events of 1971, 79 and 2001. Nobody can threaten us or our freedom," he stressed.
"It is time we fulfill our dreams and make Pakistan a great country," added the army chief.
He said the relative peace that you find in the country today, has been achieved at a very heavy cost. "Our Armed Forces and Law Enforcement Agencies have rendered tremendous sacrifices to restore peace and order, paying the ultimate price with their blood," he said.
The army chief said "it is now our duty to honor their sacrifice through display of Unity, Faith and Discipline in everything that we do."
Army Chief also inspected the parade and awarded prizes to the cadets showing remarkable performance.