PPP voters won't be discouraged by slander campaign: Zardari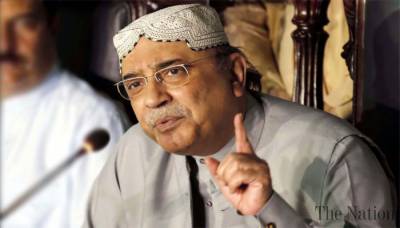 Kashmore: Former president Asif Ali Zardari said Saturday that his voters will not be discouraged by the government's attempts to slander him.
"They didn't have to do the Exit Control List drama," he said. "They know my intention."
Zardari was addressing a PPP rally in Kashmore. He said that he had submitted his passport to the court to get bail. He remarked that the establishment has not been nice with people who have worked for the nation. "This does not scare us."
Zardari said that he worked for Pakistan when he was in power. "We distributed profit among people. When you give provinces their rights, then it will benefit them."
"We are fighting for our land and nation, he said. "You (the government) are trying to finish political institutions. What can I do if you lack intelligence?"
On Friday, Zardari said that PPP's philosophy has always been that the poor have the first right. He said if the same philosophy was applied in Punjab, people will join them.
Addressing party workers in Ghotki, he said that he speaks in Urdu so that even the blind and deaf in Islamabad hear it. Through the 18th Amendment we gave the provinces rights, he said, asking why then the smaller provinces still aren't given their rights.
He said the philosophy of the PPP was to defend the rights of the poor. "Through this philosophy you will see people bonding together and after this Pakistan will become strong. By merely saying morale of my jawans (young men) is high Pakistan doesn't become strong but it becomes strong when people are strong, happy, (the resources go) in their pockets and their children sleep well."