Kim ready to meet Trump any time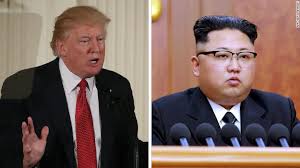 Pyongyang: In his traditional New Year address aired by the Central Television, North Korean leader Kim Jong Un named another meeting with US President Donald Trump among priorities of his country's foreign policy in 2019.
During his 30-minute speech, Kim said he was "ready to meet with Trump at any time" to continue the Korean-American dialogue for peace on the Korean Peninsula.
He also called for an end to joint US-South Korean military exercises in the region.
"We are committed to turning the Korean peninsula into the zone of peace," South Korea's Yonhap news agency quoted the North Korean leader as saying.
The North Korean leader traditionally uses his New Year address to the republic's citizens to outline goals in the economy and foreign policy.
On June 12, 2018, Donald Trump and Kim Jong Un held a historic meeting – the first-ever between a sitting US president and a North Korean leader – in Singapore. The summit resulted in a joint statement signed by the two leaders. North Korea committed to work towards denuclearization of the Korean Peninsula in exchange for security guarantees from the United States. In late December, the US president said he was looking forward to a new meeting with Kim.
——————————–