Putin congratulates Orthodox Christians, Russians celebrating Christmas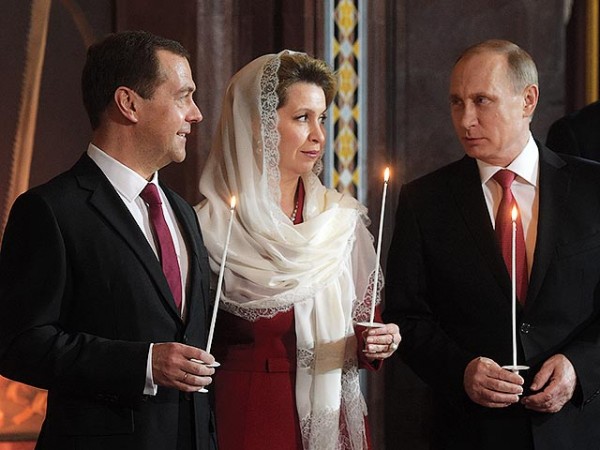 Moscow: Russian President Vladimir Putin congratulated Orthodox Christians and all Russian citizens celebrating Christmas, the Kremlin press service reported.
"I cordially congratulate you on Christmas. This wonderful holiday gives people joy and hope, unites them around spiritual, moral values, traditions of charity. Folk and family customs passed from generation to generation are connected to it. Sincere faith in good changes and fulfillment of the most cherished desires," the President's telegram reads.
The President noted that "the Russian Orthodox Church, other Christian denominations play a large, positive role in the life of our country, take care of social harmony, strengthen the institution of the family, educate the youth." They "do a lot to solve pressing social problems, harmonize interethnic and interreligious dialogue." Such fruitful and highly needed work deserves deep gratitude and respect, the President stated.
He wished Orthodox Christians, all citizens of Russia, celebrating Christmas, health, success and prosperity.
Putin attended an overnight Orthodox Christmas service on Monday at the Transfiguration Cathedral in Saint Petersburg.
The service was held by the Cathedral's dean, Nikolai Bryndin. The Cathedral was full of believers including many children. The service was also attended by Presidential Plenipotentiary Envoy to the Northwestern Federal District Alexander Gutsan and acting Governor of St. Petersburg Alexander Beglov. The president attended the service with other worshippers for half an hour, briefly spoke with Dean Nikolai Bryndin and presented him and the Cathedral with the icon of Christ Pantocrator as a Christmas gift. Bryndin in turn also presented the Russian president with a Christmas gift.
As a rule Putin leaves Moscow for Christmas, while on Easter he stays in the Russian capital for a night-time service at the Cathedral of Christ the Savior.
Last year Putin went to the Christmas service at the Church of Saints Simeon and Anna in Saint Petersburg. In 2017 he attended the Christmas service at the Spassky (St. Savior) Cathedral of the St. George's Monastery in the city of Veliky Novgorod. In 2016 went for the service at a rural Church near Voronezh. Before that he twice attended Christmas services in Sochi.
Orthodox Christians in Russia and other countries around the world are celebrating Christmas on January 7, an event which 2018 years ago marked the beginning of the new history of mankind.