Russian military patrols Syrian city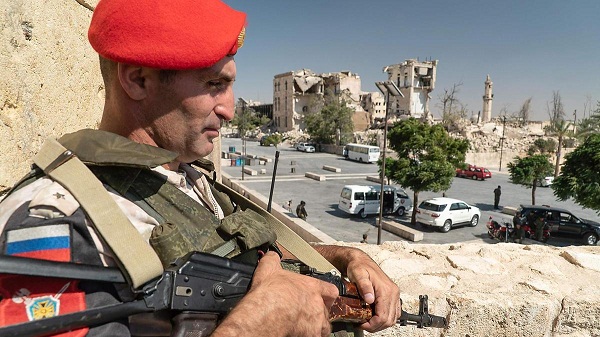 Manbij: Russian military police have started patrolling the surroundings of the northern Syrian city of Manbij in the Aleppo governorate, near the border with Syria, spokesman Yusup Mamatov told reporters.
"Today we started patrolling the security zone near the city of Manbij and its surroundings. The task is to ensure safety within the zone of responsibility, to control the positions and movement of armed groups," he said. The route of military police patrols will change regularly, he added.
According to Mamatov, during their missions Russian servicemen are receiving reports from local residents about weapons caches and unexploded ordnances left after the region's occupation by militants.
Following the US decision to withdraw troops from Syria, groups of Kurdish Self-Defense Forces requested the Damascus government to establish control over territories they used to hold, including Manbij.
According to the Syrian Defense Ministry, about 400 members of Self-Defense Forces left the city and headed to the eastern bank of the Euphrates River, where they are set to concentrate on fighting against the Islamic State group (outlawed in Russia).