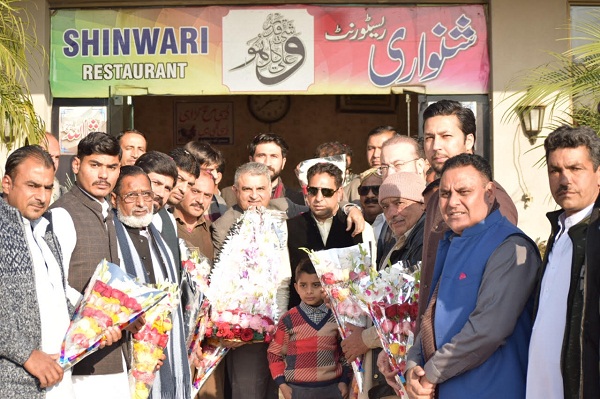 Gujar Khan: Senior Pakistan People's Party (PPP) leader and renowned social worker Mirza Abdul Rehman and his brothers on Sunday hosted an unforgettable reception for a group of overseas Pakistanis, mostly from France.
PPP France President Mohammed Razzaq Dhall, Irfan Siddiqui, Malik Afzaal, Shahnawaz Baooji, Sangeen Khan, Waseem Bohra, Ajmal Shah UK PPP – son of Syed Noor Hussain Shah – Dr Ghulam Abbas, Syed Shabbar Abbas advocate, Raja Khawar Iqbal, Mian Irfan Siddiqui, Thaikaidar Ramzan and others attended the reception.
Mirza Abdul Ramzan said the reception was hosted to honour the friends of Atiqur Rehman Mirza – who lives in Paris. Thanking the guests for attending the reception, Mirza Abdul Rehman said his brother Atiqur Rehman Mirza had promoted the message of love and friendship across France and Pakistan.
About his commitment to the Bhutto family, Rehman said the PPP leadership had never compromised on principles. "This is why I have always been loyal to the Bhutto family," he said amid slogans of 'long live Bhutto.'
He said the 18th amendment, passed by the PPP government granted autonomy to provinces. He said the PPP government – between 2008-13- had given provinces their due rights. "The law was passed unanimously by the Parliament. Punjab, Khyber Pakhtunkhwa and Balochistan have the same rights as Sindh," he added.
He said PPP leadership was being victimized again by the government but Bhutto's party will not bow down.
Speaking on the occasion PPP France President Razzaq Dhal said Mirza brothers had always showered love without political discrimination on the overseas Pakistanis who come to visit the homeland.
"I am thankful to the Mirza brothers for their love and affection. I wish to come here again and again and send time with this lovely family," he said.
Mirza Abdul Rehman and Mirza Mohammed Ramzan later saw off the guests to end the beautiful get-together.