Russian scientists test world's first internal-combustion engine fully made of aluminum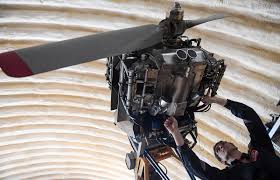 Novosibirsk: Russian scientists of Novosibirsk State Technical University have tested the world's first internal-combustion engine fully made of aluminum.
The test results will enable scientists to design a smaller engine, Professor of the Aircraft-and Helicopter-Making Chair at the University's Aircraft Faculty Ilya Zverkov said.
As was reported earlier, the University's scientists designed the world's first engine fully made of aluminum and weighing about 200 kg. The engine that uses standard automobile gasoline was expected to be mounted on Yak-52 two-seat planes whose old engines have used up their potential.
"During the trials, flaws were detected in the engine's design and, considering these faults, we will design a new engine smaller by its dimensions. We do not give up the basic ideas and the task is to obtain the stated characteristics by the [engine's] capacity and firmness," Zverkov said, adding that the improved engine would be designed and tested in the summer of this year.
The use of aluminum instead of steel has enabled scientists to cut the engine's weight by 30-40% compared to the standard steel engines of the comparable capacity. At the same time, the new engine's rated capacity has risen by 40 horsepower to 400 hp while fuel consumption has dropped by about 15%
The engine's development is being financed using the Domestic Aviation Revival Fund. Novosibirsk State Technical University is also receiving scientific and technological assistance from the Institute of Theoretical and Applied Mechanics at the Siberian branch of the Russian Academy of Sciences.
As the University's press office reports, all the basic details of the new engine will be cast in aluminum in Novosibirsk, which will make it possible to give up imported components that were used in the experimental engine. In a perspective, this will allow using the engine on aircraft of the Russian Air Force.
Earlier, aluminum was already used in aircraft and auto engines but its parts operating under the high load are now made of steel.
However, the Novosibirsk scientists have employed the plasma-electrolytic oxidation technology, under which aluminum parts are treated by plasma discharges, which results in a thin layer of aluminum oxide known as the corundum forming on the surface of an aluminum item. The corundum is known for its high firmness and melting temperature and that is why precisely aluminum parts with the corundum surface have made it possible to replace steel items in the engine.