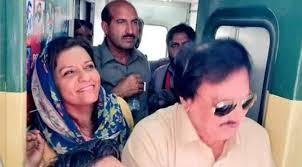 Islamabad: Secretary Information Pakistan Peoples Party Parliamentarians Dr. Nafisa Shah reacting to Prime Minister Imran Khan's address to the US Think Tank said that Imran Khan should be awarded Goebbels Award for the lies he told with confidence. Lying with confidence come with practice and Imran Khan is doing this for decades.
In a statement Dr. Nafisa Shah said that Imran Khan had tried to mislead the international community whereas the truth is that he has been a pawn in the conspiracies against democracy for the last over 20 years.
"His role in one of such conspiracies had been exposed by Abdus Sattar Eidhi. Imran Khan's father was dismissed from government job on corruption charges and all the corrupt elements of Pakistani politics are
part of Imran Khan's cabinet," she said.
The mantra of corruption is Imran Khan's favorite but he is a case of pot calling kettle black. He is not only corrupt but also an advocate of terrorists. He is regarded as Taliban without beard by the victims of terror activities.
Imran Khan's rule is nothing but unemployment, poverty, begging bowl, price hike, tariff increase of electricity, gas and bulldozing houses of poor citizens and media censorship. Imran Khan has never been a democrat as he attacked parliament from outside when he was in opposition and now from inside when he is in government. Imran Khan lacks tolerance like Taliban. He cannot face any voice of dissent just like Taliban. In an effort to hide his incapacity he is victimizing opposition, Dr. Nafisa Shah concluded.