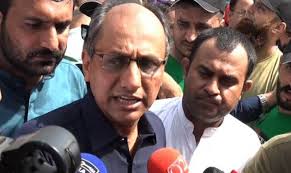 Islamabad: Provincial Minister Sindh for Information and Broadcasting Saeed Ghani, said that the imprisoned leadership of PPP is being treated worse than Abhinandan or Kulbhushan Jhadav as even the basic health facilities have not been provided.
During a press conference held in National Press Club Islamabad, he said that all this injustice is being carried out under a well crafted plan which aims at targeting PPP for speaking up for the people.
He further said that if PPP's leadership's cases can be shifted to Punjab or Islamabad, then PTI's cases can also be heard in
Sindh.He said that Zardari is not being moved to a hospital despite the advice from his board of doctors and that PPP is not afraid of prisons as it has always stood up for what is right even during the worst dictatorships.
Provincial Minister Imtiaz Sheikh Nasir Siyaal, Nasir Shah, Syed Sardar Ali Shah, Mir Shabbir Bajarani, Mukesh Chawla, Nida Khoro, Sadia Javed, Sanjeela Laghari, Sharjeel Inaam Memon, Mohammad Qasim Soomro, Zulfiqar Ali Shah, Farrukh Ali Shah and Mumtaz Jakhrani were present on the occasion. Senator Rubina Khalid, Senator Krishna Kohli and Nazir Dhoki also attended the conference.
He concluded by saying that PPP and its leadership is being targeted and opposed in order to pressurize Chairman Bilawal Bhutto Zardari into changing his ideology which is never going to happen.