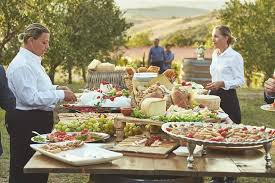 Florence: Tuscany boast some of the most flavoursome, bold cooking to be found anywhere in Italy, making it a must-visit for any foodie.
With cuisine that derives from the region's rustic roots, most of its traditional recipes have been handed down through generations of peasant farmers, who were making do with the local produce that was available to them in any given season while ensuring that no food was wasted. The results are delicious and Tuscans are staunchly proud of their home-grown delicacies.
On Good Housekeeping's 10-day tour of Tuscany, you'll have the chance to visit Florence and Siena, eating in traditional trattorias and sampling the region's most delectable dishes, while you explore the area's beautiful countryside.
Alternatively, our very first cooking holiday to Italy will take in the food and wine of Pisa and Florence over four days as you learn to make local dishes with the experts.These are the six dishes to try on a trip to Tuscany:
Ribollita: This Tuscan classic takes its name from the Italian word meaning 're-boiled', and is a handy way to use up
leftover minestrone. Ribollita or Minestra di Pane is a famous Tuscan bread soup. Italian cuisine Boil your soup for a second time, together with stale bread, added beans and plenty of cabbage, to thicken it, allowing the flavours to stew and become more intense. Serve with a side of crispy (or even stale) local bread for dipping.
Panzanella: Another great way to use up stale bread, this fresh, crunchy salad is a hit on hot summer days.Soak the
bread in water and vinegar, before drying it off and tossing together with chopped cucumber, red onion, tomatoes and
plenty of basil. Season with salt and pepper, and dress with lashings of luscious extra virgin olive oil to your liking.
Crostini Toscani: The perfect rustic Italian hors d'oeuvre, these tasty morsels are best washed down with a generous
glass of local wine.Top thin slices of crispy toast with a generous spread of chicken liver paté – ideally homemade. For a traditional Tuscan paté, cook chopped chicken liver down with onion and butter, adding capers, anchovies and broth. For an extra indulgent snack, soak the crostini in some of the broth too.
Panino al lampredotto: Beloved by students, workers, pensioners and everyone in between, this cheap and delicious
Florentine sandwich can be bought from street stalls all over the city.An example of the region's love of offal (which itself stems from not wanting to waste any part of slaughtered livestock), slices of lampredotto – the fourth stomach of a cow – are cooked in stock and served in a roll with plenty of salsa verde.
Bistecca Alla Fiorentina: Easily one of the most extravagant of the dishes on this list, it is also one of the most
straightforward to prepare.Fry a thick-cut T-bone steak (Tuscans favour meat from the mighty Chianina cattle breed) quickly on both sides so it's still bloody and rare – al sangue – then garnish with salt, pepper and a drizzle of olive oil.
Pappardelle with truffles: Truffles are a Tuscan delicacy and native to the region, so cheaper and easier to come by than elsewhere, though they still have to be hunted for in woodland during the autumn using pigs or dogs to detect the scent.
Toss some Pappardelle – the wide, flat pasta ribbons made in Tuscany – with olive oil, salt, pepper and fried garlic, then grate on some truffle (and cheese if you like) for a truly heavenly experience.