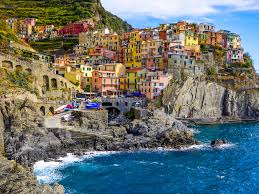 Rome: Italy weekend breaks are perfect for taking in one of the most beautiful places in the world on a short-haul mini escape. As a country that offers ancient cities, turquoise waters and rolling hills, there's something for everyone on short breaks to Italy. To show you why you don't need a whole week to take in Italy, we've picked the best destinations for a long weekend.
Here's our run down of the most idyllic locations for a short stay, with three of them hosting our exclusive cooking holidays next year.
Venice: Unique is a word that you hear a lot when reading about holiday destinations – but it's fair to say that Italy's iconic floating city deserves the title. Thanks to its wealthy past as an independent republic the city is literally packed with architectural and artistic wonders, from the magnificence of the famous Rialto, to stunning frescos tucked away in tiny backwater churches.
Sicily: If it's sun, sea and sand you're after, then look no further than Sicily. The island off the tip of Italy's boot is home to Roman and Greek monuments, rolling fields and irresistibly charming fishing villages.
South Tyrol: Unique among Italian destinations thanks to its Austrian heritage, South Tyrol is full of dazzling scenery, lush vineyards and pretty mountain villages. While cities like Bolzano have a more obviously northern Italian feel, you'll find plenty of Austrian influence in the region's cuisine.
Tuscany: Tuscany's rural beauty is irresistible and even a short stay in the countryside here will have you forgetting the stresses of everyday life. Its cities are wonderful too, with so much history and culture around every corner. Florence, the capital, is famous for its magnificent churches and cathedrals, while a trip to Siena allows you to try some of the region's delicious rustic cuisine.
Bologna: This dreamy medieval city is the perfect romantic getaway. Though it's famous for the often-imitated and endlessly adapted pasta dish that takes its name, Bologna is far more than just a foodie haven (although you'll definitely eat well there!).