China has prepared 17 Covid vaccines: Li Bijian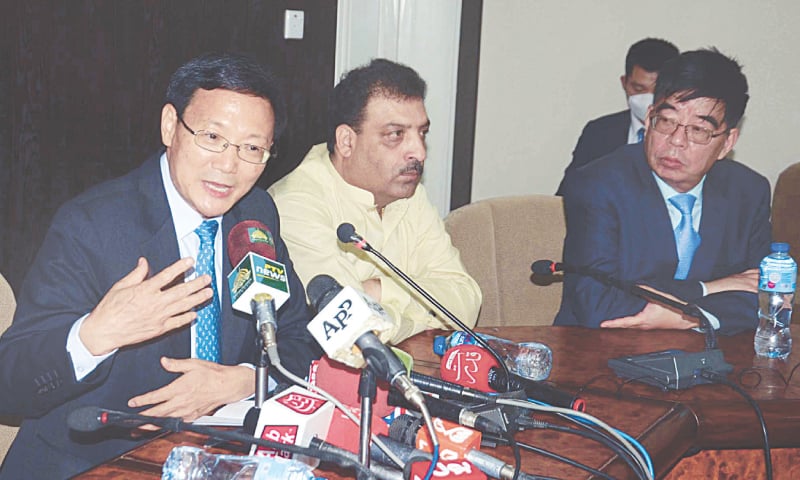 Quetta: Chinese Con­sul General for Sindh and Balochistan Li Bijian has said that his country has prepared 17 Covid-19 vaccines.
Speaking during his visit to Quetta Press Club on Wednesday, he said four of the 17 vaccines had been approved for the commercial purposes by the Chinese scientists and health officials.
Chairman of China Overseas Ports Holding Company Zhang Baozhong, Adviser to the Pakistan Tehreek-i-Insaf on the China-Pakistan Economic Corridor (CPEC) Bayzed Khan Kasi and other Chinese diplomats were also present on the occasion.
Referring to Pakistan-China bilateral and diplomatic relations, Mr Li said that the Chinese government had provided 1.5 million doses of anti-coronavirus vaccine so far and more consignments of the vaccine would be reaching Pakistan soon. "There is no after-effect of using Chinese vaccine," he said.
The Chinese envoy said that his country gave great importance to the relations with Pakistan.
He dispelled a perception about slow work on the ongoing development projects launched under the CPEC in Gwadar and other areas of Balochistan and said that some sections of the press and social media were giving a wrong impression in this regard. He said that the first phase of the CPEC had been completed and now projects launched in the second phase, which were based on socio-economics of the mega project, were under implementation.
Mr Li said that work on the Gwadar international airport and other projects was in progress and these projects would be completed soon as the contractors were asked to accelerate the pace of work on them. He, however, said that there were some technical difficulties in the completion of the Gwadar international airport which would be removed soon and expressed the hope that the airport would be completed by next year.