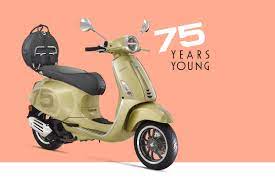 Milan: Vespa, the iconic Italian scooter, celebrates 75 years since the first patent was presented by Piaggio on 23 April 1946.
One of the top Made in Italy brands, Vespa's landmark birthday coincides with the milestone of reaching 19 million scooters produced, with the vehicles sold in 83 countries worldwide.
Vespas have been manufactured, uninterrupted since 1946, at the Piaggio plant in Pontedera, near Pisa, in Tuscany.
The story of the Vespa dates back to the tail end of world war two, after the Piaggio factory that made Pontedera bomber planes was demolished by bombing.
Enrico Piaggio, the son of Piaggio's founder Rinaldo Piaggio, decided to move away from the aeronautical field to address Italy's urgent need for a modern and affordable mode of transport for the masses.
The first prototype, known officially as MP5 and unofficially as Paperino, displeased Piaggio who drafted in aeronautical engineer Corradino D'Ascanio to redesign the scooter in what became known as the MP6 model.
D'Ascanio mounted the engine, enclosed, beside the rear wheel, in an elegant design characterised by a flat floorboard, for foot protection, and a prominent front, providing wind protection.
Upon seeing the MP6 for the first time, Piaggio is said to have exclaimed: "Sembra una vespa!" ("It's like a wasp!"), effectively naming his new scooter on the spot.
Over the decades the Vespa has become known as a symbol of 'La Dolce Vita' and has been associated with youth and pop culture around the world.
The scooter gained global fame after featuring in the 1953 Hollywood classic Roman Holiday, when Audrey Hepburn rode side-saddle on a Vespa driven by Gregory Peck.
An Italian success story, Vespa shows no signs of slowing down, with production rising steadily from 2004 when 58,000 scooters were produced, to exceed 200,000 new vehicles in 2018.
In addition to Pontedera, which serves the European and western markets, there are two other Vespa production sites: Vinh Phuc, in Vietnam, serving the local market and the Far East; and the Baramati plant in India, where Vespas for the Indian and Nepalese markets are produced.
To celebrate the landmark anniversary, the Italian firm has released a 75th Special Edition Series, including the Primavera and GTS models, featuring a metallic yellow livery – a colour in vogue in the 1940s – with a "75" on the panel.