CPEC: $ 168 million Eastbay Expressway Gwadar project in final stage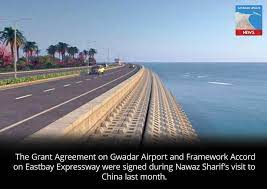 Gwadar Pro
Islamabad: The Eastbay Expressway Gwadar project with an estimated cost of US $ 168 million under the China-Pakistan Economic Corridor (CPEC) is in final stage and it would be completed by October this year, Chairman CPEC Authority Lt. General Asim Saleem Bajwa said on Sunday afternoon.
In a tweet, he said the 14.5 kilometers offshore expressway had already been completed while the remaining 4.5 KM onshore road was under construction and 92 percent of work had been completed.
The Chairman CPEC Authority said the Expressway will connect the port with the second phase of the Free Trade Zone which will facilitate the business climate of the zone and the port alike. He said the CPEC project created 2000 direct jobs.
Currently, the Gwadar deep sea port is connected through a narrow 16 feet wide thoroughfare of Gwadar Town at the West-Bay. All the trawlers, trucks loaded with imported shipments pass through this strip causing disruption of normal traffic.
The port has not a dedicated wide highway to cater the transporting requirements of the post. The port operationalisation, even with the available three multi-purpose berths, necessitates construction of the planned East-Bay Expressway. This 6-lane expressway along with a provision of 30 meters wide railway corridor will connect the port with the Mekran Coastal Highway (N-20) through the 2300 acres Free Trade Zone of Gwadar Port.
Recently, the Joint Working Group (JWG) on Gwadar under CPEC was informed that the Expressway will connect the port with the 2nd Phase of the Free Trade Zone (FTZ).
The six lane Gwadar East Bay Expressway was initially planned to be completed by 2018 but has been delayed to October 2020 and again for another year.
The project is being developed as part of the 'Early Harvest' scheme of CPEC, and is part of a wider US $1.1 billion development package for the city and Port of Gwadar.
The cost of the project is being financed by interest-free loans extended by China's state owned banks. Pakistan is required only to repay the principal value of the loan.
As a condition for receiving a zero-interest rate loan, bidding for the project was limited to Chinese state-owned companies, and the contract was awarded on a government-to-government basis.