CPEC fulfilling economic needs of Pakistan: PIDE Report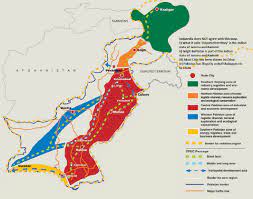 Islamabad: China-Pakistan Economic Corridor (CPEC) is fulfilling the economic needs of Pakistan, the Pakistan Institute of Development Economics (PIDE) said in a report.
"CPEC is bringing various projects which are the need of Pakistan economy. The infrastructure and energy projects will capture the interest of the investors and will also boost FDI as well as domestic investment. Secondly, the special economic zones will bring industrial agglomeration which will result in the innovations and high value-added products with reduced cost. This will make our products cost competitive in the global market and we will be able to increase our exports and will make us able to enjoy the benefits of reduced trade deficit," read the PIDE report.
It said the CPEC's Special Economic Zones (SEZs), expected to bring investments and relocation of industry from china should be devised with great care.
"We are having latent comparative advantage in certain labour abundant products which can be shaped as our exports engines by promoting them. Footwear, garments, video and radio equipment, trunks and cases, cotton yarn, iron, agro-processing business and steel paper production, dyeing/colouring materials, printing industry, glass and glass wear are some of the subsectors which can help to boost our exports in future," it said.
The CPEC, it said, is a blessing in disguise for Pakistan economy in the time of need when instead of having Foreign Direct Investment (FDI) in Pakistan there was a capital flight abroad.
"CPEC basically is an infrastructure driven project consists of roads/railways to connect Western China (Kashghar/Xinjiang) to Pakistan's coastal city (Gwadar). Its volume is estimated to be around US $ 62 Billion, where major portion is devoted to energy projects. It is considered to be the game changer for Pakistan, because of the connected projects like regional connectivity, energy and industrial up gradations and development," the report said.
It added: "As a part of One Belt One Road-OBOR or Belt and Road Initiative (BRI), CPEC has vital role to play in connecting China to the Middle East and provide route to Chinese products as well Pakistani products via Arabian Sea where we are drawing advantage of world's largest deep-sea port Gwadar. It has the potential to uplift the socio-economic condition of country and has significance for the country both strategically as well as economically. Infrastructure, energy and market innovation which has hindered country's exports leading to continuously losing export market is seen to be mended through this Project. The infrastructure development, energy production and advancement of economic zones into SEZs will bring a structural change in our industry mainly in the manufacturing sector."
It said the deep-sea port of Gwadar is supposed to be connected to the Chinese border through three routes i.e. Eastern route Western route and Central route. The Eastern route will pass through Makran Coastal Highway, Karachi, Hyderabad, Sukkur, Multan, Lahore, Islamabad, Mansehra, Thakot, Raikot to Khunjarab while the Western route will pass through Turbat, Bismah, Surab, Qalat, Quetta, Zhob, Dera Ismail Khan, Bannu, Kohat and Mansehra onward and the Central route will pass through the existing Indus Highway via Dera Ismail Khan.
The report said the projects under CPEC framework can be clubbed into four main categories, which terms are 1+4 portfolio of CPEC. It counted them as Energy projects, Infrastructure projects, Gwadar related projects and Industrial cooperation under the CPEC which would all develop Pakistan in different ways.