Senator Rehman Malik urges national unity to combat the internal and external crisises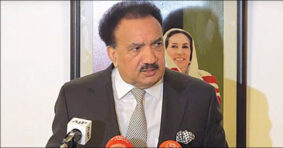 Islamabad: Former Interior Minister and Chairman Institute of Research and Reforms (IRR) Senator A. Rehman Malik has said that Pakistan was going through an extraordinary situation at present as our enemy India is conspiring against Pakistan day and night.
He said that in recent days there have been attacks inside Pakistan from across the border of Afghanistan in which soldiers of our Armed Forces were martyred and injured. He said that despite the agreement between two countries, India was constantly violating across the Line of Control (LoC) and Working Boundary.
In an interview with a private TV channel, he said that our weak economy has been further ruined by the coronavirus pandemic, which destabilized earlier by FATF adding if we did not pay attention to our economy and did not take extraordinary steps, the coming days will be very tough for the country.
He said that putting aside political differences, both opposition and government need to meet their heads in larger the national interests to take out the country of crises. He expressed if both opposition and government do not come together to formulate a joint strategy to take out the country out of current situation, the country will face more problems in future.
Former Interior Minister Rehman Malik further said that FATF has done a lot of harm to Pakistani economy on behalf of India as India had launched a fake propaganda against Pakistan which was exposed by DisinifoLab Eu. He said "I had promised the nation that I would take India to FATF and today I am happy that FATF has started an investigation against India for money laundering and terror financing."
He said that it was no more secret that India was involved in money laundering and terror financing and no one, including FATF, was speaking and taking action against India.
He said that he would like to inform the nation that so far he has written several letters to FATF adding in some letters he has requested to remove Pakistan from the gray list in wake of Coronavirus and in other he has requested to take action against India. He said that he had sent all the evidence and proofs against India to FATF.
Former Interior Minister Rehman Malik said that in recent days he had written a letter to the Director General of International Atomic Energy Agency (IAEA) in which he demanded an immediate inquiry against India over the proliferation of nuclear materials. He said the IAEA should convene an emergency meeting on the private uranium trade in India and the United Nations should take steps to prevent such public sale and purchase of uranium. He said that Western countries were silent on the issue of open sale and purchase of uranium by private dealers in India even though terrorists could use uranium to make dirty bombs.
Rehman Malik said that politics is in its place but when it comes to national issues, he has always raised his voice first. He said that he has never been silent on external conspiracies against Pakistan and has always given priority to national interest on everything.
Speaking on the issue of Palestine, Senator Rehman Malik said that he was deeply saddened by the massacre of innocent Muslims in Palestine by Israel. He said that he wished that all Islamic countries would come together today and the Ummah would raise a strong voice on every issue so neither Israel nor India would have dared to oppress Kashmiris and Palestinian Muslims. He said that today no country in the world has an Islamic system of government but the Muslim majority countries are called Islamic countries and not because of the Islamic style of government there. He said that most of the Islamic countries were not moving forward for the unity of the Ummah due to fear of the West.
He said that sadly all international bodies, including the United Nations, were silent on the massacre of Palestinians.
He said that our Prime Minister was on a visit to Saudi Arabia when the Al-Aqsa Mosque was being attacked and it would have been better if Muhammad Bin Salman and Imran Khan had issued a joint statement against Israel with one voice and have proposed to convene a joint meeting of Islamic countries. He said that Indian Prime Minister Modi is also following the Israeli model just as Israel is genociding the oppressed Palestinians to bring demographic change in Palestine, similarly Modi is massacring Muslims in Kashmir to reduce their majority.
He appealed to the heads of Muslim countries to wake up and break their silence on Kashmir and Palestine.
Discussing the political situation, Rehman Malik said that the PDM had taken a very wrong step by issuing a show-cause notice to the PPP which it should take back with an apology. He said that PPP has been victimized in the name of accountability in every era and Khurshid Shah is still in jail facing victimisation. He said that we have to see whether accountability is taking place in our country or political victimization is taking place in the name of accountability as there is a very thin line difference between accountability and victimization.