Bilawal Bhutto slams govt's economic policies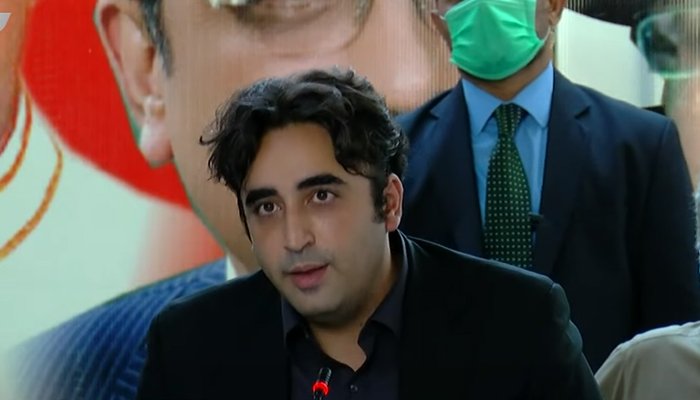 Islamabad: Pakistan People's Party (PPP) Chairman Bilawal Bhutto Zardari Sunday strongly condemned the poor economic policies of the PTI government, saying that the PTI government cannot cover up its incompetence by blaming the IMF for inflation.
"The PTI government has handed over Pakistan's sovereignty by signing on to the repressive terms of the IMF deal," said Chairman Bilawal Bhutto Zardari
In a statement, the Chairman Pakistan Peoples Party Bilawal Bhutto Zardari questioned the incumbent government, "Why is the inflation rate in Pakistan at 10.9% while India controlled it at 4.29% and Bangladesh at 5.54% during the pandemic?"
The mafia working under Imran Khan raised the price of chicken by 110% for PTI's cartel to profit billions of rupees. And now, by reducing the rate slightly, they will also take credit for the price drop. "On one hand, people do not have any money in their pockets. On the other hand, Imran Khan plans to reward PTI assembly members with billions of rupees in the budget", said Chairman PPP Bilawal Bhutto Zardari. Chairman Bilawal Bhutto Zardari demanded that the national exchequer be spent on the welfare of citizens, not to reward PTI members who came to power through rigged elections. "Rewarding 96 billion rupees to PTI members during an acute economic crisis is blatantly unjust, anti-people, and quite frankly grotesque", he added.
Chairman PPP also criticised Imran Khan's government for not presenting its five-year economic plan after the conclusion of the 11th economic plan. "If PTI's economic plan is only to be beholden to the IMF's dictation, then Imran Khan should admit to the people of Pakistan that he came to power, not with a plan to serve the people, but a plan to serve only his cronies and himself."