Bilawal Bhutto says PM incompetent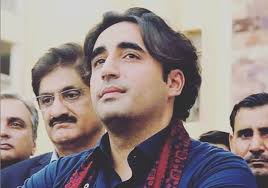 Islamabad: Chairman Pakistan People's Party (PPP) Bilawal Bhutto Zardari called out Prime Minister Imran Khan for his incompetence regarding Pakistan's economic policies. Speaking on the economic catastrophe the PTI government has caused, Chairman PPP cautioned the nation of turbulent times ahead if quick action was not taken against the reigning government.
In a statement, Chairman PPP Bilawal Bhutto Zardari stated, "There is no bread to eat, no clothes to wear, no roof over one's head, and Imran Khan says "ghabrana nahin hai". How can you ask the nation not to worry during such devastating circumstances?" he questioned.
Revealing the incredulous state of affairs the PM has created for the common man, Chairman PPP said, "Wheat is available, but flour is expensive, sugarcane is available, but sugar prices are out of control. Is this not the result of Imran Khan's mafia patronage?" he asked.
The economy was also severely damaged when the selected PM raised cotton prices. This was the highest price level Pakistan saw in the last 11 years.
Speaking on the new crisis Imran Khan has created for the country; Chairman PPP demanded the PTI government take note of the plight of the poor.
PTI provides no relief to the common man, the salaried, and pensioners in the budget. Their only target is to correct the erroneous GDP figures," said Chairman Bilawal Bhutto. "Every fifth person in the country has lost his job, or his income has decreased during Imran Khan's rule. Every year, the sabotaged budget works against the relief of the poor and for the benefit of the PM's cronies."
Chairman PPP also warned the PTI government that these injustices would not continue for long since everyone's eyes are on the GDP figures. "If the GDP increases, there will be a surge in employment opportunities for the youth," he said, "But Imran Khan's Photoshopped GDP surge tells the tale of cascading unemployment."
Revealing the ineptitude of PTI, Chairman PPP also said that 50% of the people were suffering from poverty during Pervez Musharraf's dictatorship regime. Today, Imran Khan has brought back the country to the path PPP took it out from.
"Apart from Pakistan Peoples Party, no other political party has been able to formulate a public-friendly budget benefitting the common man, the salaried, and the pensioners," declared Chairman Bilawal Bhutto Zardari. "If Pakistan's sinking economy is to be saved, we must get rid of Imran Khan's government."
Ends
———————————————-