Rehman Malik urges FATF to investigate confessional statement of Indian FM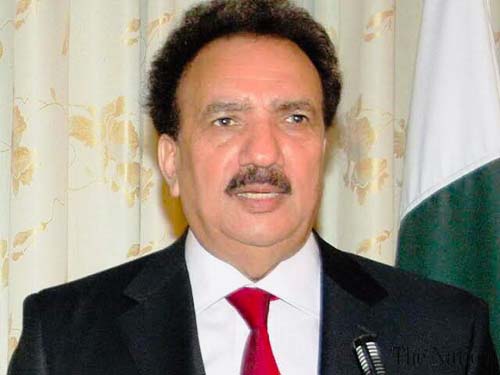 Islamabad; Former Interior Minister and Chairman Institute of Research and Reforms (IRR) Senator A. Rehman Malik has urged the President Financial Action Task Force President Dr. Marcus Pleyer to investigate the confessional statement of Indian External Affairs Minister by a special team of FATF to expose the further truth.
He has also requested to review the decision of placing Pakistan on FATF's grey list which the Indian foreign minister has already termed to be taken under Indian political pressure and influence.
He said that it was noted by the world that despite fulfilling 26 out of 27 FATF demands, FATF did not take the name of Pakistan out of its grey list.
He writes "I am on record with FATF that India is behind keeping Pakistan in 'Grey List' duly complained by the USA and I had earlier apprehended that FATF was not going to take Pakistan out of its grey list due to political pressure and influence by some countries". He said that this secret of keeping Pakistan continuously in the FATF's grey list has been unveiled by the Indian Foreign Minister's confessional statement wherein he has stated that Bhartiya Janata Party (BJP) government led by Narendra Modi ensured that Pakistan remained on the 'grey list' of the Financial Action Task Force (FATF) and due to us, Pakistan is under the lens of FATF and it was kept on the grey list.
The former interior minister said that Indian foreign minister's confessional statement vindicates Pakistan's firm stance that FATF is being politically influenced and has fallen for the negative propaganda by India against Pakistan. The Indian Foreign Minister's statement also proves the politicization and partialism of FATF, he added.
He writes that the confession of the Indian foreign minister has raised a big question on the integrity and transparency of FATF and the claim of the Indian foreign minister confirms the Indian involvement in pushing Pakistan into the grey list.
Senator Rehman Malik writes "I would also like to express that despite clear evidence of involvement in terror financing, money laundering, and even in heinous crimes of nuclear proliferation, India is being spared and no legal Substantive action is being taken against it by FATF". He said that the people of Pakistan are justified to ask questions from FATF as to why Pakistan is being dealt with differently from India which is a glaring discrimination. He expressed that Indian Foreign Minister's confession is testimony that Pakistan is a victim of joint influence of India and USA to continue to keep Pakistan under pressure with ulterior motives.
At the end of the letter, he has requested President FATF Mr. Dr. Marcus Pleyer that the statement of Indian Foreign Minister be placed on record for next proceedings of the FATF. He has also requested to investigate the confessional statement of Indian Foreign Minister by a special team of FATF as it has disputed the proceedings of FATF against Pakistan.
While condemning the Dasu incident of terrorism in which nine Chinese and two Pakistanis were killed, he said that he has confirmed information that there was solid evidence of Indian involvement. He said that India is conspiring against CPEC and urged that both Pakistan and China should take up this issue in the United Nations.
He said that he was concerned that India while using Israeli company's spyware hacked smartphones belonging to journalists, government officials and human rights activists including the Prime Minister of Pakistan Imran Khan and other Pakistani politicians. He urged the government of Pakistan to raise this issue of hacking of smartphones with United Nations.