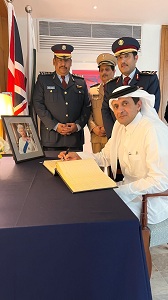 Islamabad: Ambassador of the State of Qatar to Pakistan, Saoud bin Abdulrahman Al-Thani on Thursday offered condolences at the British High Commission in Pakistan on the passing of Queen Elizabeth II.
The envoy was accompanied by the members of the Embassy and Defence Attache' office.
Queen Elizabeth, Britain's longest-reigning monarch and the nation's figurehead for seven decades, died aged 96 on September 8.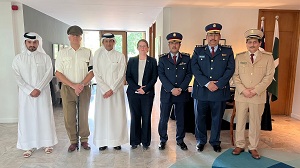 Her eldest son Charles, 73, automatically became king of the United Kingdom and the head of state of 14 other realms including Australia, Canada and New Zealand.
Queen Elizabeth II, who was also the world's oldest and longest-serving head of state, came to the throne following the death of her father King George VI on February 6, 1952.
She was crowned in June the following year. The first televised coronation was a foretaste of a new world in which the lives of the royals were to become increasingly scrutinised by the media.
Elizabeth Alexandra Mary Windsor was for most of her subjects the only monarch they have ever known — an immutable figurehead on stamps, banknotes and coins.
Diminutive in stature yet an icon of popular culture, she was instantly recognisable in her brightly coloured suits and matching hat, with pearls, gloves and a handbag.