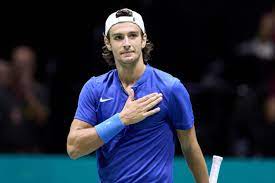 Bologna: Host Italy sealed a 3-0 victory in its debut against Croatia on the second day of play in Group A at the Unipol Arena in Bologna.
The second match of the day was a rollercoaster of emotions that started with the home crowd firmly behind Matteo Berrettini after a bad start, with the Italian going down 1-4 against Croatia's No.1 Borna Coric.
The Italian No.2 recovered momentarily and pushed the first set to a tiebreak. The momentum changed again, however, and Coric prevailed thanks to a string of unforced errors by Berrettini.
But once again, the noisy Italian crowd, the tifosi, took a starring role in the fate of the match. The electrifying atmosphere they created seemed to revitalise Berrettini precisely when he needed it the most. The Italian switched gears in the second set and took control of the match.
Whatever Coric tried was swiftly countered by Berrettini who sealed a convincing victory 6-7(4), 6-2, 6-1 with his 13th ace of the night.
Lorenzo Musetti is the No.3 player for his team by ranking but today he was tasked with opening the tie against Borna Gojo. The Italian rose to the occasion and beat his rival convincingly 6-4, 6-2.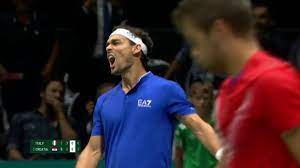 Musetti got his first break of serve in the fifth game to earn a 3-2 lead. In that game, the Italian was finally able to neutralise Gojo´s forehand, his most powerful weapon.
The 20-year-old Italian gained confidence and improved his percentage of first serves to claim the first set in 44 minutes.