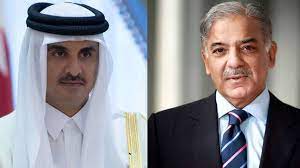 Islamabad: Hours before the opening of FIFA World Cup 2022 in Qatar, Prime Minister Shehbaz Sharif on Sunday extended best wishes to the country's leadership and the people for hosting the biggest football event – the first-ever in the Middle East.
"On behalf of the government and people of Pakistan, I extend our best wishes to His Highness Sheikh Tamim Bin Hamad Al-Thani, the Emir and brotherly people of Qatar for hosting the football World Cup," the prime minister wrote on Twitter.
Thirty-two teams from across the world are participating in one of the most-watched sporting events to be played from November 20 to December 18.
The launch of the biggest football event is preceded by 12 years of preparations that transformed Qatar introducing a new metro rail, a new airport, the new buildings and parks across the capital Doha which has profoundly affected the lives of citizens and workers of Qatar which is set to face Ecuador in the opening match.
"The world will experience the best of Qatar's history, culture and hospitality," Prime Minister Shehbaz commented as a slew of world leaders including UN Secretary-General Antonio Guterres have already landed in Doha before the opening ceremony slated to kick off at the 60,000-capacity Al Bayt Stadium.
Qatari journalist Mohammed al-Subaie told Al Jazeera that the World Cup would expose many to Arab culture for the first time.
"It helps to broaden their vision about how the Middle East is other than what their perception of the Middle East is," he said.