PM thanks countries, UN for making Resilient Pakistan conference a 'resounding success'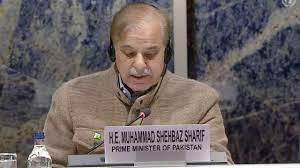 Islamabad: Prime Minister Shehbaz Sharif on Tuesday expressed gratitude to the countries and the aid agencies for making the conference on Pakistan's post-flood challenges a success.
"A big thank you to Heads of states and governments, European Union, our development partners and United Nations for making Resilient Pakistan Conference a resounding success," he said in a tweet.
He mentioned the active role of United Nations Secretary-General Antonio Guterres in highlighting the plight of Pakistan's flood-hit population.
"The UN Secretary General has shown stellar leadership all along. People of Pakistan will forever remain grateful," he said.
Shehbaz Sharif said the world witnessed yesterday how the nations can come together in a show of solidarity to create a model of win-win partnership to lift suffering humanity out of tragedy.
"I was deeply moved by the compassion on display at Geneva Conference. Together we will rebuild lives and hopes," he said.
Pakistan on Monday secured over $10 billion pledges from the international financial institutions, donor agencies and development partners for the rehabilitation, recovery and reconstruction of flood affected areas, during an International Conference on Climate Resilience.
The major pledges made at the conference, co-chaired by Pakistan and the United Nations in Geneva, Switzerland, included $4.2 billion from the Islamic Development Bank (IsDB), $2 billion from the World Bank, $1.5 billion from the Asian Development Bank (ADB), $1 billion from the Asian Infrastructure Investment Bank (AIIB) and $1 billion from Saudi Arabia.
Prime Minister Muhammad Shehbaz Sharif led the Pakistan delegation at Geneva moot where he described in detail Pakistan's Resilient Recovery, Rehabilitation, and Reconstruction Framework (4RF), which laid out a multi-sectoral strategy for rehabilitation and reconstruction in a climate-resilient and inclusive manner.
Minister for Foreign Affairs Bilawal Bhutto Zardari, Minister for Finance Ishaq Dar, Minister for Planning Ahsan Iqbal, Minister for Climate Change Sherry Rehman and Minister for Information and Broadcasting Marriyum Aurangzeb were part of the prime minister's delegation.