CRBC $100,000 donation in place for flood-hit families in Pakistan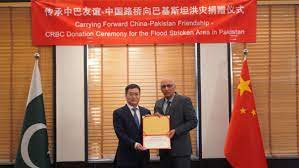 Beijing: China Road and Bridge Corporation (CRBC), a longstanding partner of Pakistan in transport and infrastructure network development, donated a total of US$100,000 to the flood-hit families in Pakistan.
In October 2022, Wang Lijun, Deputy Secretary of the Party Committee and General Manager of the company attended the donation ceremony at the Pakistani Embassy in China.
According to the company, the donation will be divided into two parts, RMB 100,000 will be donated to the Pakistani Embassy in China and Rs 20.08 million will go to the Prime Minister's Flood Relief Fund, China Economic Net (CEN) reported on Tuesday.
Expressing sincere sympathy to the families of the victims and those injured in the flood, Wang believed that with the joint efforts of the Pakistani government and people, they would overcome the difficulties and life and work would go back to normal at an early date.
Wang talked with Pakistan's Ambassador to China Moin ul Haque about the company's key project progress in Pakistan and expressed his heartfelt thanks to the Embassy for its long-term guidance and help.
Speaking on the occasion, Ambassador Moin paid tribute to CRBC's contribution towards Pakistan-China friendship and its role in successful completion of many vital infrastructure projects in Pakistan including the Khunjerab-Raikot section of Karakorum Highway and KKH realignment projects at Attabad Lake and Havelian-Thakot sections.