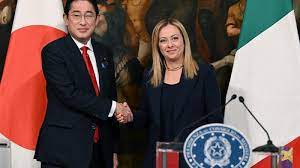 Rome: Italy and Japan agreed to become strategic partners and cooperate in various sectors, from defence to culture, after Italian Prime Minister Giorgia Meloni met with her Japanese counterpart Fumio Kishida in Rome.
Rome is the second stop on the Japanese leader's Western tour, preparing the ground for the next G7 in Hiroshima. Japan has been president of the G7 since 1 January and in 2024, Italy will take over the baton.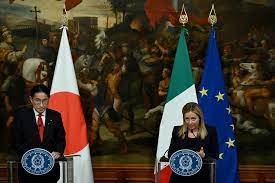 "We had a long talk starting from the excellent bilateral relations between Italy and Japan, which have an interchange of €12 billion a year", Meloni told the press.
The meeting was an opportunity for the two leaders to elevate relations between Italy and Japan to the rank of strategic partnership.
Meloni and Kishida reiterated their full support to Ukraine and stressed the importance of protecting the rules-based international order, strengthening economic security, supply chains and combating climate change.
It is clear from the leaders' statements that the defence sector is crucial. Kishida discussed Japan's new security strategy with Meloni and said he expects close cooperation on Ukraine and Indo-Pacific security.
"The North Korean missile and the nuclear programme continue to be of great concern", Meloni explained, stressing that "the balance, stability and prosperity of the Indo-Pacific" are crucial as it is an area "increasingly strategic" and "with major knots to be solved".
The two also discussed the 'Global Compact Air Programme', known as 'Tempest', that was launched by Italy, Japan and the UK.
The programme aims to develop a sixth-generation vehicle that "will have important spin-offs in the civil and scientific research sectors", Meloni said.
"Our long conversation demonstrates again that Japan, despite the geographical distance that apparently divides us, remains not only a friendly nation but a partner of central and strategic importance for Italy's interests", Meloni added.
Kishida, for his part, also emphasised that Italy and Japan "share fundamental values" and said he is eager to further strengthen relations between the two countries.
A film co-production agreement is also in the pipeline: "We both boast a very important industry, and we want to work together", Meloni explained.