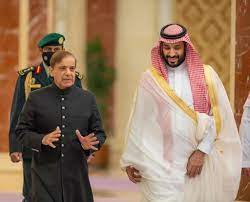 Islamabad: The Kingdom of Saudi Arabia is set to pump investments in the China-Pakistan Economic Corridor (CPEC)'s Special Economic Zones (SEZs) and other government projects to support weak Pakistani economy.
Saudi Arabia's Crown Prince Mohammed bin Salman ordered exploring increasing the Kingdom's assistance and investments in Pakistan, a step toward furthering relief to the South Asian nation economy reeling from deadly floods.
The Saudi Fund for Development will conduct a study on increasing the deposit in Pakistan's central bank to US $ 5 billion from US $ 3 billion earlier, according to the Saudi government.
It will also assess the plan to increase investments in Pakistan to US $10 billion.
The Kingdom's fund provides soft loans and grants to developing countries as a means to bolster allies and cement new relationships.
The statement comes a day after the Crown Prince met with Pakistan's army chief General Syed Asim Munir to review ways to enhance bilateral ties and strengthen cooperation.
Pakistan's economy was strapped for funds after a gridlock with the International Monetary Fund over tax targets delayed disbursal of loan installments.
The situation was made worse by floods that inundated a third of the nation and cut its growth by half. Pakistan has relied on friendly nations to tide over the crisis.
Earlier this week, Pakistan received commitments of more than US $10 billion in assistance.
The nation's foreign exchange reserves dropped to US $5.6 billion — the lowest in almost nine years and enough to cover less than one month of imports.
The deteriorating economic outlook triggered downgrades, forcing authorities to announce austerity measures to reduce energy bills and save dollars.
Saudi Arabia last month extended another loan of US $3 billion at 4 percent to Pakistan for a year. The Saudi government will "continue to support Pakistan as much as we can," Saudi Finance Minister Mohammed Al Jadaan said at a press conference last month.
Pakistan is also looking to seek extension of a US $ 2.3 billion deposit from China that is due in March.
China has been About 30 percent of Pakistan's foreign debt is owed to China, including state-owned commercial banks.
China had deposited US $2.3 billion in State Bank of Pakistan (SBP) to boost Pakistan's sliding foreign exchange reserves in June 2022.