Italy: Climate envoy resigns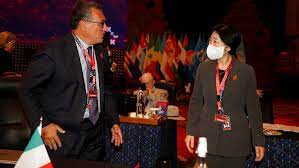 Rome: Italy's climate envoy Alessandro Modiano has resigned from government, leaving the future of the country's climate diplomacy in doubt.
Modiano was appointed by the ideologically broad government of Mario Draghi in January 2022 and resigned yesterday, three months into the far-right government of Giorgia Meloni.
He tweeted: "Today, I am leaving the role of Special Envoy for Climate Change. It was an honor to be the first and a privilege to work with the incredible [ministry of the environment and energy security] team, the international community, and outstanding youth!"
Luca Bergamaschi is the director of Italian climate think tank Ecco. He told Climate Home: "Losing one of Italy's most capable senior diplomat represents quite a critical loss of capacity for Italian climate diplomacy."
He added: "At the moment Italy doesn't have a Special Envoy any longer and no one knows if Modiano's envoy role will be replaced."
Modiano led Italy's negotiators at summits like the G20 ministerial meeting in Indonesia and Cop27 in Egypt.
He held meetings with foreign counterparts and announced financial support for climate projects.
After elections in October 2022, a far-right coalition led by Giorgia Meloni formed a government, taking over from centrist Mario Draghi.
She renamed the "ministry of ecological transition" the "ministry of environment and energy security".
Minister Roberto Cingolani, a physicist who had used Italy's G20 presidency to push to phase out coal, was replaced by Gilberto Pichetto Fratin from the right-wing Forza Italia party.
Before joining government, Fratin said he supports Italy developing zero-carbon renewable and nuclear energy as well as fossil gas.
He opposed taxes on plastics and on measures to phase-out internal combustion engines.
"I still can't imagine the Monza [Italian] Grand Prix [formula one race] without the roar of the engine of the cars on the track," he said last June.