Rabbani for declaring 2023 as Golden Jubilee Year of 1973 Constitution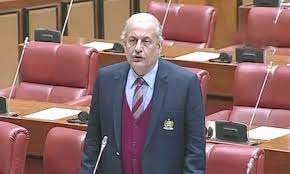 Islamabad: Chairman Senate Standing Committee on Delegated Legislation Mian Raza Rabbani on Tuesday urged the government to declare 2023 as the Golden Jubilee Year of the 1973 Constitution of Pakistan.
"The Constitution, passed on April 10, 1973, was authenticated on April 12 and promulgated on August 14 [of the same year.] So, this is the Golden Jubilee Year," he said while speaking on the floor of the Upper House of the Parliament.
In that regard, the Senator said he had written a letter to the prime minister requesting to dedicate the whole current year to 'the Constitution of 1973,' besides arranging seminars and events across the country to create awareness about the Constitution.
Raza Rabbani said the Pakistan Peoples Party Parliamentarians (PPPP) had already 'accepted' 2023 as 'the Constitution Year,' and hoped that the government would also consider it in the same way.