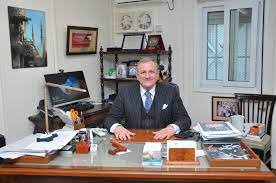 Covert
Islamabad: Italy's Ambassador to Pakistan Andreas Ferrarese said this week that Italy was home to thousands of Pakistanis.
In an interaction with the Pakistani businesspersons, he said Italy had the potential to become a huge trading partner of Pakistan in the European Union.
The envoy said that around 150,000 Pakistanis were residing in Italy and they had been sending massive amount of remittances back home for the past couple of years.
The Ambassador mentioned that the Pakistanis living in Italy should act as a key factor for developing people-to-people and trade relationship between the two countries.
About Italian investment in Pakistan, he mentioned that it showed an increase of 45% in fiscal year 2019-20 against the previous year. The investment rose from $51.9 million in FY19 to $56.4 million in FY20.
"Foreign direct investment (FDI) from Italy mainly entered energy, pharmaceutical, chemical and information technology sectors of Pakistan," he added.
Italy is the third largest economy in the European Union, after Germany and France, and it is Pakistan's ninth biggest export destination, the Ambassador Ferrarese said.