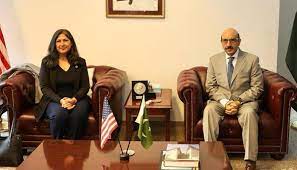 Washington: Farrah N. Khan, an American of Pakistani descent, who is the Mayor of Irvine, a city in the U.S. state of California, held a meeting with Pakistan's Ambassador Masood Khan Wednesday during which she highlighted Irvine's significant progress in sectors such as tech, meditech and artificial intelligence.
The family of Ms. Khan, 52, migrated to the United States when she was three years old.
In November 2022, the Lahore-born Ms. Khan became the first woman of colour and the first Muslim to lead the large American city. She is now serving her second term.
The Ambassador, while congratulating her on successful political career, said that her leadership qualities and successes make Pakistan and the Pakistani diaspora in the United States proud, according to a press release of the Pakistani embassy.
He said the recent Punjab-California Sister Province Agreement provides a model to establish domain-specific state-to-province, city-to-city economic linkages between Pakistan and the United States.
"The tech startups of Pakistan, manned by enterprising youth, and a vibrant tech sector of Irvine could forge strong partnerships for not only meeting the economic needs of the two sides but also to strengthen people-to-people exchanges," the Pakistani envoy added.
Referring to his recent visit to California and signing of the Punjab-California sister state-province agreement, the Ambassador termed the agreement as historic which would bring Punjab, the largest populated province of Pakistan, and the state of California, the largest state of the US, closer and would open up vistas for enhancing economic interaction between the two countries.
Ms. Farrah Khan thanked the Ambassador for warmly receiving her and highlighted tech, meditech and artificial intelligence as the major sectors in which Irvine was witnessing significant progress.
Higher education and advanced learning in the latest technologies was another promising area for enhancing mutual collaboration, she said.
Farrah Khan also highlighted the valuable contributions being made by the Pakistani diaspora towards the socio-economic development of Irvine and the state of California.
The Ambassador invited Mayor Farrah Khan to visit Pakistan along with a business delegation for promoting cooperation between the chamber and industry and to strengthen people-to-people linkages.