Rescue teams, relief supplies from Pakistan arrive in Türkiye as death toll crossed 3381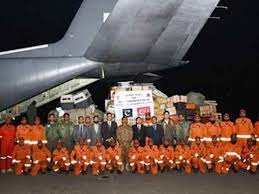 Islamabad:Two rescue teams were sent toTürkiye on Tuesday as the country grapples with the devastating effects of a 7.8 magnitude earthquake. The death toll on Tuesday morning was reported to have crossed 3,381 in Türkiye as aid teams continued to pull people out of the rubble. Türkiye and its neighbouring Syria saw entire apartment blocks toppled by the earthquake which also wrecked hospitals, and left thousands more injured or homeless.
Nearly 9,000 people have been rescued from 4,758 buildings destroyed in the tremors a day earlier, Türkiye's Disaster and Emergency Management Authority (AFAD) said in its latest statement.
Freezing winter weather hampered search efforts for survivors through the night while also worsening conditions for people trapped under rubble or left homeless.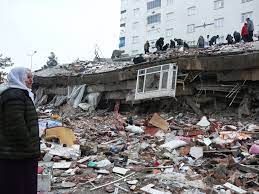 The aid teams left in the wee hours of Tuesday on a special Pakistan Air Force C-130 Hercules aircraft and arrived in Türkiye during the morning hours. They are scheduled to remain there until the completion of the operation. According to the ISPR, the support from Pakistan Army includes the Urban Search and Rescue Team, which includes specialists, sniffer dogs, search equipment, and a medical team comprising army doctors, nursing staff and technicians. Additionally, aid supplies including a 30-bed mobile hospital, tents, blankets and other relief items have also been sent.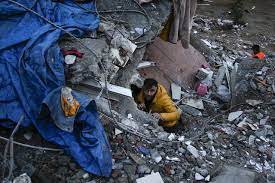 It may also be noted that another 52-member rescue and relief team has also been sent to Türkiye. Rescue 1122 Secretary Rizwan Naseer gave a go-ahead to the 52-member specialised search and rescue team to leave for Türkiye after approval from the Punjab government and Provincial Disaster Management Authority (PDMA). He said the United Nations-certified Pakistan Rescue Team was leaving for immediate support work.
An international aid effort is being stepped up in southern Türkiye and northern Syria following a huge earthquake that has killed more than 4,800 people
The 7.8 magnitude quake struck near Gaziantep in the early hours of Monday while people were asleep
A 7.5-magnitude tremor then hit at around 13:30 local time (10:30 GMT), which officials said was "not an aftershock"
The country's disaster agency says more than 3,381 people were killed in Türkiye alone after the first quake, and more than 15,000 were injured
More than 1,500 people are reported to have died in Syria
Rescuers are racing to save people trapped beneath the rubble after thousands of buildings collapsed in both countries
Countries including the US and South Korea are sending aid after Türkiye issued an international appeal for help.