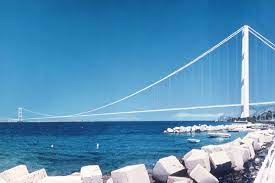 Rome: The Italian government has ordered the restart of the planning procedure for a bridge over the Strait of Messina, between Sicily and Calabria, which will become the longest suspension bridge in the world.
The proposed suspension bridge would be 5km long and include a record-breaking central span measuring 3.3km, considerably longer than the current record holder, Turkey's Canakkale Bridge, which has a central span of 2.02km and opened in 2022.
The Messina bridge between Sicily and the mainland has been a consideration since Roman times, but was brought to the table officially in 1998 when Italy's government approved the plans "in principal". A multi-billion Euro contract was awarded to a consortium led by Impreligo (now WeBuild) in 2006, but later cancelled when the country faced a recession.
The project surfaced again in 2009, when Italian officials said work would start later that year, however, financial concerns again thwarted the plans and in 2013 former prime minister Mario Monti shut down the special purpose vehicle organisation created to oversee its construction. It has been in limbo since, having been reconsidered and then knocked back by the pandemic. In 2021, WeBuild chief executive Pietro Salini said the firm was ready to start construction based on the 2013 permissions and plans, but it did not advance.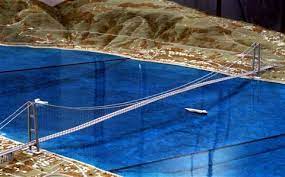 Italian prime minister Giorgia Meloni breathed life into the plans shortly after taking office in late 2022, signalling plans to revive the company overseeing construction and to apply for EU funds for the project.
The plan has now kicked into gear following a ministerial meeting last week in which, under guidance from Meloni and newly-appointed Italy infrastructure minister Matteo Salvini, a decree was made towards provisions for the construction of the Messina bridge, subject to agreements. This decree will allow, as soon as possible, the restart of the executive planning procedure for the bridge. This includes pulling together the corporate structure and governance of the project, the planning and design activities and environmental monitoring.
Following the decision last week, Salvini tweeted (in Italian) that it was an "historic day", adding that "after so many years of defeatism and distrust, this government is reviving the project". He said the infrastructure "has the ambition to become the most modern and sustainable in the world and will bring work, development and the future".
Plans for the Messina bridge have been criticised, with commentators saying the money could be better spent on Sicily's roads. The wisdom of its position has also been questioned, as the Strait of Messina is one of Europe's most seismically active locations right on a fault line and is subject to periodic earthquakes. A 1908 earthquake on that fault line was the continent's worst seismic disaster of the 20th century, killing 120,000 people. Another issue is the current of the water between Sicily and mainland Italy, which is notoriously strong, adding difficulty to the works.