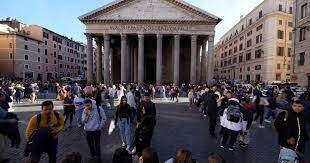 Rome: Foreign visitors planning to head to the former Roman temple, the Pantheon, which is among the most famous attractions in Italy, will be obliged to pay five euros in order to enter this church.
The decision comes following the new agreement signed by the Italian Culture Ministry as well as church officials, SchengenVisaInfo.com reports.
The famous monument will become payable as soon as the Ministry completes the necessary technical procedures, according to the statement of the Ministry.
Italian Minister of Culture, Gennaro Sangiuliano, while celebrating the new change noted that in just three months authorities in this country managed to define an objective based on common sense, which was to charge for the visit of Italy's most famous monument.
Sangiuliano considered the move a matter of good sense, according to Euronews travel report.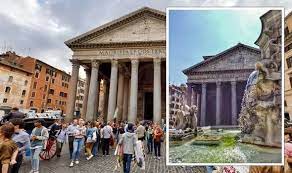 Following the new changes, travellers under the age of 25 will be obliged to pay a fee of two euros. At the same time, it was confirmed that there would be some exceptions regarding the new rules. Rome residents, as well as minors and those attending Mass and personnel of the basilica, will be excluded from the latest changes.
Of the total revenues collected, 70 per cent of them will be received by the Culture Ministry in order to help cover maintenance as well as cleaning costs, while the remainder will be received by the Roman Diocese, which uses some of the budgets for charitable actions, and also help keep other temples.
In addition to imposing a fee on one of the most famous attractions for foreigners, authorities in Italy previously revealed that they would charge an entrance fee starting this year for tourists planning to visit one of the most famous Italian cities.
Authorities in Italy last year announced that all persons planning to visit Venice would be obliged to make a reservation and pay a fee.
It was confirmed that tickets would range from $3.25–to $10.85, while the price would depend on the time of the year.
Authorities in Italy stressed that passengers who don't hold a ticket would not be allowed to enter this City. Despite the fact that tickets will not be required until next year, they will be available for tourists online starting in June 2022.
"Today, many have understood that making the City bookable is the right way to take for more balanced management of tourism. We will be the first in the world in this difficult experimentation," Venice Mayor Luigi Brugnaro noted.
Such a decision was taken in order to reduce the number of foreign visitors to this City.