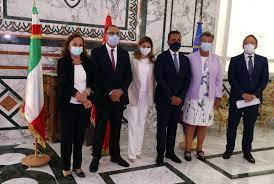 Rome: Italy wants a bailout for Tunisia as soon as possible. Sitting less than 300 kilometres across the water from the Arab country, it fears Tunisia's social unrest and looming economic collapse will only further increase the stream of migrants crossing the Mediterranean to its shores.
"Tunisia urgently needs aid. We cannot waste time," Italian Foreign Minister Antonio Tajani told Italian public radio on March 24. "We risk having tens, maybe hundreds of thousands of people in the Mediterranean Sea who will be on the move."
Since the country overthrew its ruling dictatorship in 2011 in the Arab Spring, it has been a chaotic democracy that now sits on the verge of economic collapse, as well. Negotiations for an IMF loan have stalled over President Kais Saied's recent policies.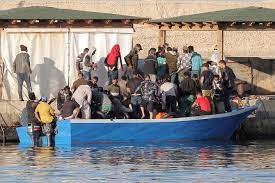 Elected in 2019, he dissolved parliament in July 2021, rewrote the country's constitution to increase his presidential powers, and then held a referendum followed by parliamentary elections with a turnout of only 11%. In February of this year, he cracked down on his opposition in a series of arrests of politicians, labour union members, judges, and members of civil society.
Saied has scapegoated foreigners as well, both dignitaries and immigrants. He has criminalised contacts with foreign ambassadors—one of the charges his arrested opponents are facing. Following a wave of arrests of immigrants in February, he also made a speech saying the influx of sub-Saharan Africans is part of a plot to change the country's demographics and culture. Widespread evictions of immigrants followed as landlords threw out foreign renters, fearing repercussions from the state if they did not. Many immigrants have returned to their homelands in the face of insecurity. Others are likely deciding to head to Europe.
The UN and Italian government officials believe the political crackdowns and anti-foreigner sentiment Saied is breeding are already pushing more migrants out of Tunisia and into the Mediterranean.
More than 20,000 migrants have landed on Italy's shores so far this year, compared to around 6,000 in the same period in 2022 and 2021, according to figures from the Italian government. Unofficial United Nations data estimates that 12,000 of those who have reached Italy this year came from Tunisia, compared to 1,300 in the same months of last year. This shows a shift in the primary launching point for migrants to Italy, which, until recently, was Libya. The EU has heavily funded Libya to prevent migrant crossings, leading to would-be migrants ending up stuck in the country under horrific conditions.
The UN's figures also show that most of those coming from Tunisia are sub-Saharan Africans, primarily from Ivory Coast (3,223), followed by Guinea (2,906). Only 1,535 Tunisians had come to Italy so far this year.
At the behest of Italy, the EU's foreign relations and defence ministers added discussions about Tunisia to their March 20th council meeting. Following the meeting, Josep Borrell, foreign affairs commissioner, indicated that the ministers were considering intervening in the country:
Tunisia is a neighbour, is a close partner and what happens there has an immediate impact on us. Not only because it increases migration flows, [but also] because it creates more instability and insecurity in the MENA region, in the Mediterranean … For us, it is imperative to avoid the economic and social collapse and to support [the] Tunisian people. We cannot turn a blind eye to what is happening there.
He said he would be asking two members of the Foreign Affairs Council to "immediately" travel there to assess the situation:
Everything has to be done quickly because the situation in Tunisia is very, very dangerous. If Tunisia collapses economically or socially, then we will be in a situation where new flows of migrants will come to Europe. We have to avoid this situation.
At the meeting, the council also agreed to increase funding for the European Peace Facility, an off-budget pot of money used to provide aid to countries with security concerns. Many African countries are already receiving money from the fund.
But Saied and his government seem little interested in outside support. The Tunisian Ministry of Foreign Affairs replied in a statement to Borrell's comments:
The remarks made are disproportionate both in view of the well-established resilience of the Tunisian people throughout their history, and in relation to a migratory threat towards Europe from the south … These selective remarks continue to ignore any responsibility (of the EU) in the situation which prevailed in Tunisia and elsewhere, in particular since 2011 and until July 25, 2021.
The urgency of the situation is clear as both the Tunisian and Italian coastguards have rescued migrant dinghies in the last few days.