Xi Jinping's visit to Russia has raised hopes of peace and progress: Pakistani official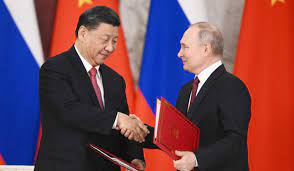 Islamabad: Chinese President Xi Jinping's visit to Russia has raised the hopes of peace and progress, Coordinator to Federal Tax Ombudsman Meher Kashif Younis said on Sunday afternoon.
Talking to a delegation of industrialists and traders led by Shahid Nazir, he maintained that the international community attached great importance to the visit.
"Perhaps the high price some countries especially under-developing including Pakistan are paying for the Ukraine conflict has raised the international community's expectations that China can help resume the peace process to end the Russia-Ukraine conflict," he added.
He contended that this conflict has, directly and indirectly, hit the local economy, which caused ever-spiralling inflation and disrupted the chain supply affecting the imports of raw materials besides deepening the economic growth.
Younis remarked that durable peace is prerequisite for sustainable economic growth and if Chinese sincere efforts yielded results then it will help greatly to help stabilise the bleak economy and bring life to peace in Eurasia.
He stressed that China's success in mediating a rapprochement between Saudi Arabia and Iran has raised hopes it could do the same with Russia and Ukraine, particularly because Beijing has open communication channels with both countries.
Congratulating China on its success in mediating a detente between Riyadh and Teheran, Meher Kashif Younis said China is not only an important cooperation partner of Ukraine, but also a major country with global influence, indicating the high expectations Kyiv has pinned on the visit.
Younis underscored that the visit can help Ukraine and Russia keep alive the hope of dialogue and keep the door open to a political settlement, because China refuses to take sides in the conflict, and remains committed to helping restore peace, while calling on the international community to create enabling conditions for peace talks.