Truck Art exhibition attracted a large number of Chinese students: Ambassador Moinul Haque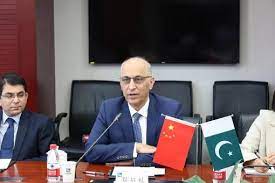 Islamabad: Ambassador to China Moinul Haque has said that the first Truck Art exhibition showcasing Pakistan's diverse cultural landscape in Langfang, China had attracted a large number of Chinese students.
"A special Truck Art workshop conducted by artist Ali and his team in Silk Road International Cultural Center. Dozens of Chinese students enthusiastically participated to learn about this dazzling and colorful Pakistani art," the envoy mentioned in a statement issue here.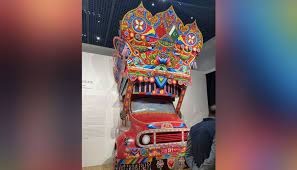 The Truck Art exhibition was opened in Langfang, China to celebrate Pakistan's 83rd National Day and 2023 as the China-Pakistan Year of Tourism Exchanges.
The exhibition, which will continue till July 24, was organized by Pakistan Embassy in Beijing, in collaboration with Silk Road International Art Center, Langfang and renowned truck artists enterprise 'Phool Patti (flowers and petals).'
The opening ceremony held on April 28 was attended by more than 300 people including Chinese dignitaries, government officials, and members of the diplomatic corps, business executives, media representatives and Pakistani community.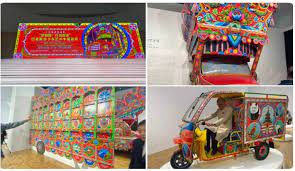 A specially-designed truck model and other items ranging from bicycles, murals, clothes, fans, and ceramic pots were designed by the Phool Patti team for the exhibition which would last for three months.
Ali Salman Anchan, the team leader from Phool Patti would also hold special live workshops along with his team for the visitors to the exhibition.
Termed as "Art on Wheels" by many, this artistic expression represents cheerfulness, optimism, appreciating the beautiful aspects of nature and seeing life in its brightest and most positive way.
As part of a cultural exchange project between both countries, the exhibition features a series of commissioned works and large-scale site-specific works, live events, along with educational programs.