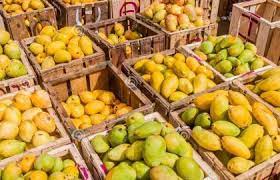 Gwadar Pro
Multan: A Chinese business delegation called on Secretary of Agriculture South Punjab Saqib Ali Ateel and Pakistani mango scientists to explore opportunities in mango-producing areas and set up mango processing facilities for the export of value-added products to the lucrative international markets.
Led by Chen Peng, the delegates including Jinglian Yao, He Mingchun, Ashfaq Hussain and Syed Shakeel Ahmad were conducting visits mango producing areas in Sindh and South Punjab, looking for mango varieties that can be available in May-Sep duration for their processing in bulk and then be exported after value addition, according to agriculture department.
Chen Peng said they were visiting mango-producing areas and holding meetings with experts to know about mango varieties best suitable for pulp production. Initially, 6,000-ton mango would be bought and processed, he added.
The varieties having an average weight ranging from 300-500 grams with more fibre and pulp quantity and smaller stones would be preferred, Chen Peng mentioned.
Principal scientist Mango Research Institute (MRI) Abdul Ghaffar Grewal informed on the occasion that Pakistan produces 1.8 million tons of mango per annum but only one per cent of it, 50,000 tons, is exported.
He said that White Chaunsa and Chenab Gold were the varieties that can bear fruit for a longer duration. The exterior of Chenab Gold is hard enough to prevent penetration by fruit flies. Saqib Ali Ateel assured the Chinese delegation of the department's complete support.
He underlined that the agriculture department was encouraging organic practices to keep crops safe against pests and diseases and guiding orchard owners on how to ensure minimum or no application of pesticides.
He highlighted that agriculture was a major component of the second phase of China Pakistan Economic Corridor (CPEC) to boost agriculture production, trade and export.