China willing to contribute to multilateral trading system, trade development: commerce minister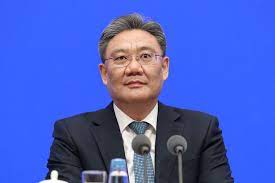 Detroit: China, as a major developing country, is willing to make its due contribution in terms of supporting the multilateral trading system and promoting sustainable and inclusive trade development, Chinese Commerce Minister Wang Wentao said here at an Asia-Pacific Economic Cooperation (APEC) trade ministers meeting held from Thursday to Friday.
Supporting the multilateral trading system is an important tradition of APEC, noted Wang. As the reform of the World Trade Organization (WTO) is accelerating, Asia-Pacific economies should take an active part in promoting an early resumption of the dispute settlement mechanism, he added.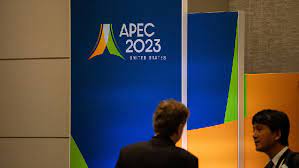 The economies should strive to complete negotiations on investment facilitation as soon as possible, substantively conclude negotiations on e-commerce within this year, and promote such initiatives as the prevention and control of plastic pollution, he said.
Meanwhile, economies in the Asia-Pacific region should strengthen cooperation and focus on areas of common concern and a high degree of consensus among members, pushing for practical outcomes at the 13th Ministerial Conference of the WTO, Wang said.
The Asia-Pacific region has always been the most dynamic, promising, and resilient in the global economy, but it also faces interference and challenges in its economic and trade development, Wang noted.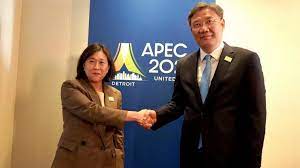 China calls on APEC economies to continue to uphold open regionalism, adhere to the main channel status of the Free Trade Area of the Asia-Pacific, unswervingly advance regional economic integration, and further deepen trade and investment cooperation, said Wang, adding that the opportunities and dividends brought by the integrated development of regional industrial and supply chains should be shared.
The economies should also give full play to the role of green and low-carbon development and digital economy as engines for sustainable and inclusive growth, actively carry out policy exchanges and coordination, technical assistance and capacity building, promote industrial cooperation and infrastructure investment, help developing and least developed economies better integrate into the development process, and help enterprises, especially the small and medium-sized ones, share development opportunities, he added.
On the sidelines of the APEC trade ministers meeting, Wang also attended the ministerial meeting between China and Digital Economy Partnership Agreement members, and met with WTO Director-General Ngozi Okonjo-Iweala and ministers of the United States, Japan, South Korea, Australia and other economies, exchanging views on bilateral and multilateral economic and trade issues.
The 2023 APEC Ministers Responsible for Trade Statement of the Chair was issued during the meeting.