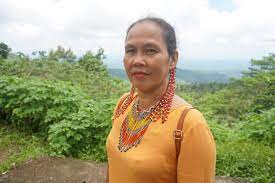 Butuan: "Our mothers and their mothers gave birth to us here in the mountains. Far away from the cities," said Bae Dalayagan Gloria Pentaso, a tribal leader from the Manobo, an indigenous people from the island of Mindanao in the Philippines.
"After giving birth, they had to take care of their children. They were not able to journey to the cities to get birth certificates. This is why many of us today do not have one," she explained.
Yet without a birth certificate a child is more vulnerable to poverty and exclusion. They are unable to access public education. Nor are they able to access government social welfare programs such as 4Ps, which are intended to break the cycle of intergenerational poverty in the Philippines.
Through a grant from the European Union's Governance in Justice (GOJUST) Programme, Father Saturnino Urios University (FSUU) has been able to provide legal aid services to this indigenous community. Support was focused on notarizing birth certificates, so Manobo children acquire legal identity and can access their rights. But the University team – comprised of law students and professors – also equipped villagers with knowledge about their rights under the law, and provided legal advice to tribal leaders on disputes between their community.
"We are grateful to FSUU because whenever they came to our community, they helped everyone. They never chose one group over another. Many of our children have birth certificates because of them," said Bae Avelyn Makigod, another Manobo tribal leader leading her community.
"The legal advice provided by FSUU has also allowed us to reconcile both mainstream law and our customary indigenous law in arbitrating disputes," explained Bae Makigod. "We feel empowered with the rights and laws we've learned as a community and it really motivates us now more than ever to want to empower our young people." She added.
Both female leaders placed a strong emphasis on education for their children. Tribal leader Bae Pentaso proudly introduced Joy, currently an 18-year old Caraga State University student, majoring in mining engineering. She is hopeful that more of the youth in her community will be able to attend university as well. With their newly acquired birth certificates, more Manabo children may have that opportunity someday.
Since launching the grant facility one year ago, about 2,300 women, children and men have been provided with legal aid services and received knowledge and training on their rights.
Christoph Wagner, Head of Cooperation at the EU Delegation to the Philippines, explained the reason for the EU's support to initiatives like this one:
"Access to justice is fundamental to building a fair, inclusive, prosperous and peaceful society. The European Union has been a committed partner to the Philippine's Justice Sector reform since 2006, and our engagement stems from the importance we attach to democracy, human rights and the rule of law."
FSUU is one of GOJUST's 12 grantee universities that implement the Clinical Legal Education Program (CLEP) of the Supreme Court as a pathway to promote access to justice for indigenous people, women and other people in vulnerable situations. The CLEP is a credit-earning teaching course with the goal of providing law students with knowledge for the application of the law, delivery of legal services and promotion of social justice, especially to marginalized communities.